David Brooks Featured Prominently In Democratic Party's Response To Romney's Trouncing Of Obama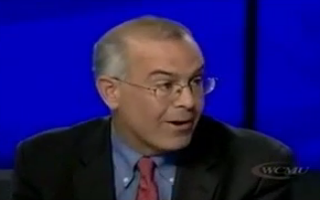 Few are contesting that Mitt Romney won the first presidential debate on Wednesday night with President Barack Obama. While Romney's detractors are unconvinced that every point he made last night was factually accurate, most conceded that Romney won on both style and substance. But the Democratic party has a job to do and that is to spin this debacle. And spin they have. The contention of the Democratic response appears to be that Romney was overly aggressive in his performance last night. So, what authoritative voice does the President's party use to reinforce that contention? The New York Times' conservative columnist, David Brooks.
"I do think Romney looked aggressive – maybe a little over aggressive," Brooks said of his impression of Romney's performance. "He was like a bulldozer – he just kept going, and going, and going."
These clips of Brooks come from his appearance on PBS immediately following the conclusion of the debate.
But Mitt Romney's performance was broadly praised by Brooks – due entirely to his appeal to the center. Brooks praised Romney's appeal to "compassionate conservatism" and his concession that the marketplace needs regulation.
It's hard to blame the Democratic party's rapid response team for appealing to the authority of Brooks – he is, after all, a Democrat's favorite Republican. That said, the party's response does not focus on Romney's facts but his style. The spin seems to be that he bullied the moderator and dominated the debate, despite the fact that Romney spoke for a full five minutes less than the president.
This is pretty weak tea, even for a morning-after spin session.
Watch Brooks' commentary below via PBS:
> >Follow Noah Rothman (@Noah_C_Rothman) on Twitter
Have a tip we should know? tips@mediaite.com