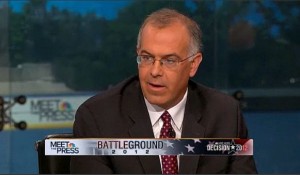 On Meet The Press today, David Gregory and panel looked at Governor Rick Perry's strong lead in Republican party polls, and discussed the impact of his campaign on the future of the GOP.
After entering the race on the weekend of the Iowa straw poll, Perry has surged ahead of previous frontrunner Mitt Romney, and the media is shifting its collective gaze towards the Texas governor and looking at what he brings to the table. However, panelist David Brooks saw Perry's instant rise to popularity as a sign that he fits the current incarnation of the Republican party better than any of the other candidates. To Brooks, it's almost as if "the Republican party was waiting for this guy." Perry's anti-establishment views combined with his traditional Southern values make him a choice candidate for the party next year.
As Gregory pointed out, the Republican party is not a single bloc and there are moderates who would go for Romney or Jon Huntsman, libertarians who favor Ron Paul, and many other factors to be considered. Gregory highlighted Huntsman's recent attempts to brand himself as the candidate most aligned with the political center in the United States, characterizing President Obama as too liberal and his GOP rivals as too conservative.
TODAY's Jamie Gangel dismissed the speculation since in elections past, "the guys who got the nomination were not the guys leading the polls." BBC Washington correspondent Katty Kay argued that Perry has a better chance than previous firebrand candidates because of his record of job creation in Texas, which his campaign will most certainly use to draw a contrast with the Obama administration.
Michael Eric Dyson agreed that Obama's team needed to work on messaging with regard to the economy, but then compared the presidential race to not just Hurricane Irene, but President Obama's strategy for dealing with Libya.
Mitt Romney starts off like Hurricane Irene. He's promising to have a profound effect, he's downgraded to a tropical storm. And here comes the Hurricane Perry.

But I think Mitt Romney would be well-advised to do what Obama did in regard to Libya. It's not leading from behind, it's laying back in the cut, allowing the forces to fight themselves out, and then you intervene strategically.
Watch the video below, courtesy of NBC:
Have a tip we should know? [email protected]
Josh Feldman - Senior Editor