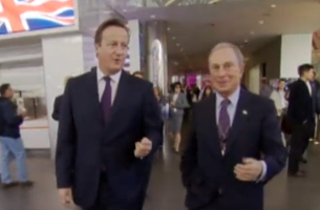 British Prime Minister David Cameron is notoriously gaffe-prone, which makes one think he would learn to not make gaffes while casually strolling in front of a news camera in the middle of the lobby of a giant news conglomerate. But nope.
While visiting Michael Bloomberg at the headquarters of Bloomberg LP, which houses Bloomberg News, Cameron was caught divulging details about his conversations with Queen Elizabeth II regarding the recent Scottish referendum — all while walking in front of a television pool camera, but probably not aware that he was being recorded.
"The definition of relief is being the prime minister of the United Kingdom and ringing the queen and saying 'It's alright, it's OK.' That was something," Cameron told the former mayor of New York City. "She purred down the line."
While it's technically not illegal for Cameron to talk about his conversations with the Queen, it is a breach of protocol for a Prime Minister to do so, and also kind of a disturbing thing to hear him talk about the Queen "purring."
He then went on to joke about suing polling companies for giving him ulcers in the leadup to the Scottish vote for independence ("It should never have been that close"), and had a silly laugh with Bloomberg over the press being annoying.
The Telegraph later reported that Cameron would apologize to the Queen, and that he was "deeply embarrassed" by his breach of protocol.
Any relevant excuse to bring up this NSFW clip from The Thick of It is worth it.
Here's the raw footage, courtesy of The Telegraph:
[Bloomberg]
[Image via screenshot/Bloomberg]
—
>> Follow Tina Nguyen (@Tina_Nguyen) on Twitter
Have a tip we should know? tips@mediaite.com