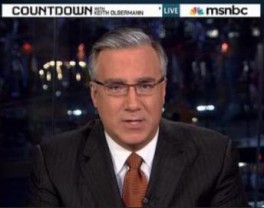 See what happens when the New York Times doesn't delete a Media Decoder post it puts up? It has the power to make Keith Olbermann see the light and completely change his mind!
The MSNBC host had planned to continue his online call for his fans to dig up dirt on Glenn Beck and more – but that was before David Carr weighed in.
Olbermann read some of Carr's piece and described the writer's "admirable naivete" about the idea of oppo research. After echoing his Daily Kos blog post about the matter, he turned self-reflective. "Mr. Carr's point begs a great question," said Olbermann. "Do I really want to be like Glenn Beck, do I really want to be like Fox News or the New York Post. I don't mean I'd stop calling any of them out for their inanities."
And then the kicker:
What could we possibility find out that would be more humiliating to Glenn Beck, more embarrassing to Glenn Beck, more destructive about Glenn Beck, than this one fact: he's Glenn Beck.
Well that certainly saves some time. Call off the Googling Countdown fans – we have something no one can touch – he's Glenn Beck.
It's an odd turn in the entire Fox/NBC back-and-forth, but it isn't likely to change the tenor of the debate. Olbermann's right in thinking Beck or the NYP will find a creative way to knock him in the near future, and Olbermann will be right there the next time Beck turns into an art critic. It's a little disingenuous to attempt to peg his maneuver as 'taking the high road' in the debate, especially from someone who attacks Beck's colleague Bill O'Reilly like this. But at least in this specific moment – it looks like David Carr has the power not many have – to make Olbermann change his mind.
Here's the clip:
—–
» Follow Steve Krakauer on Twitter
Have a tip we should know? tips@mediaite.com