David French: Trump Campaign Made 'Ham-Handed' Attempt to Intimidate My Family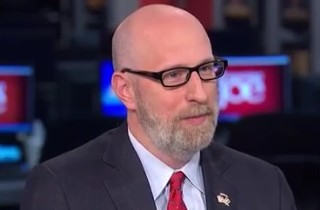 National Review writer David French isn't running for president, but appeared on MSNBC's Morning Joe Tuesday to dish on some of the more underhanded tactics the Donald Trump campaign allegedly resorted to to make sure he didn't run.
"Did Trump operatives reach out to your family or you?" asked host Mika Brzezinski, following up on unsourced allegations in a National Review piece.
It was his wife's family, he corrected. "It was probably one of the more ham-handed attempts at intimidation, which out of the Trump organization you can expect things to be done the most incompetent way possible," he responded. "An individual calls and he says, 'I'm sorry, but I've been asked by the Trump campaign to make sure that David knows this will be really, really bad for him.'"
.@DavidAFrench: Trump operative contacted my wife's family in a 'ham-handed effort to intimidate' https://t.co/luVoXnCVRE

— Morning Joe (@Morning_Joe) June 7, 2016
French added that he actually learned about the intimidating call after he made his decision not to run, and that it didn't affect his decision-making in the slightest. He noted that he already had personal experience with the notion that going against Trump would mean harsh personal attacks.
"I have been up against Trump for some time, and the assaults on my family have been overwhelming just as a writer," French said. "I mean, as everyone knows, Trump has an online racist mob that he often stokes by retweeting some of these horrible white supremacists. As that online racist mob is very fond of pointing out I have a multiracial family, and so they have gone after my youngest daughter in the worst way imaginable."
"Threats, I've had neighbors who — this was months ago, before I even considered this — neighbors who were nervous there were going to be attacks in the neighborhood. He unlocks something terrible in this country," he said.
Watch his remarks above, via MSNBC.
[Image via screengrab]
——
>>Follow Alex Griswold (@HashtagGriswold) on Twitter
Have a tip we should know? tips@mediaite.com