David Frum Hits Back At Debbie Wasserman Schultz Over Obama's Commitment To Israel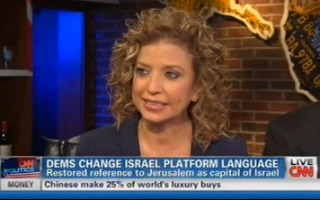 DNC chairwoman Debbie Wasserman Schultz stopped by Starting Point Thursday, where she defended her party's platform changes regarding mentions of Jerusalem. Calling the change a "technical ommission," Wasserman Schultz said that the "adding of Jerusalem into the platform was making sure that the platform reflected more clarity on what was already a strongly pro-Israel platform."
"But it was added back in because you were getting backlash about it," host Soledad O'Brien pointed out.
"No, it was not," Wasserman Schultz replied. "It was added back in because President Obama personally believes that Jerusalem is and will remain the capital of Israel, and felt that the platform needed to reflect his personal view as well as the language from the 2008 platform."
RELATED: Anderson Cooper Says Wasserman Schultz In 'Alternate Universe' About DNC Platform Change
Later on in the segment, O'Brien then noted that her CNN colleague Anderson Cooper had taken Wasserman Schultz to task for saying "there wasn't any discord" regarding the changes.
"Clearly," said the host, "there was discord. We have video of people being angry."
"Among 6,000 delegates, 6,000 delegates," said her guest. "To have a small amount of objection in any essentially legislative process is sort of par for the course. And that's all that was."
CNN's Dana Bash then how it happened that a mention of Jerusalem wasn't in there, given that it had been "such a big deal that it was added four years ago."
"Like I said, our platform already reflected President Obama's incredible record in support of Israel," said Wasserman Schultz. "For purposes of clarity, he felt it was important to add it in."
But panelist David Frum wasn't buying it for a second. "I wasn't at the platform meeting, and it's possible you've done your platform differently from every incumbent president in the history of modern platform writing," he told her, "but the way it normally works is the president has somebody there, and on any issue the president cares about, the president indicates to the platform writers what the president would like to see."
"Like the Republican platform with the human life amendment and Mitt Romney?" she shot back.
"No," said Frum. "The Republicans don't have a president right now."
"Mitt Romney has much less control over his party than a President Romney would do," he continued. "But the President didn't — ok. the question is did the President not have somebody there? And if the President felt so overwhelmingly passionately strongly about Jerusalem, notwithstanding the fact that he didn't talk about it either in his big Middle East speech, why didn't he just indicate, 'people do me a favor, include the language I want'?"
O'Brien noted that it all "seems like an important issue to have a mess-up on. Of all the things to have a mistake on, this particular one seems like a really big one to be like, oh, it was a technical issue. That's why people are a little cynical about that."
Watch, via CNN:
Have a tip we should know? tips@mediaite.com