David Frum Warns GOP Not To Let Right-Wing Media Sensationalism Influence Them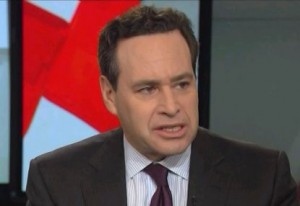 In recent years, conservative commentator David Frum has taken to criticizing his own side for its relationship with conservative media outlets like Fox News, and on Reliable Sources today, Frum criticized the network for creating its own political reality, as well as the Republican party for shaping itself around the influence of the conservative media bubble.
Howard Kurtz asked Frum how he could think that Fox News was creating its own reality, and Frum immediately cited the War on Christmas as an example. The supposed Christmas tree tax proposed by the Obama administraiton did not get any play whatsoever in mainstream media outlets, but conservative media made it a huge issue and made it a big story for days at a time. Frum stated that not only did this seek to create more of a "cultural conflict" between conservatives and the president, but it was completely inaccurate.
RELATED: David Frum: Fox News Has An Interest In Marginalizing The GOP
Kurtz's main contention with Frum's arguments was that Frum was painting the network with too broad a brush, and one could hardly argue that recently contentious interviews with Mitt Romney and others on Fox News would qualify as toeing the conservative line. Frum shot back by calling Bret Baier and other straight news personalities at the network "good people doing good work in bad situations." What Frum was more focused on was the overall effect of Fox News on viewers, and insisted there was a correlation between the stories the network puts out there and the average intelligence of their viewers.
"TV enhances its own credibility by destroying the credibility of all other institutions. And you can see this in polls When other institutions' credibility decline, TV's credibility goes up. The old advertising motto for local news stations, 'we're on your side,' against all those other people who are not."
Frum admitted that after he wrote a column telling the Republican party to stop letting itself be influenced by Rush Limbaugh, he has had several on-screen invitations to Fox News pulled at the last minute. Kurtz asked Frum to explain his comment about Limbaugh, and Frum shot back by suggesting if the weight of the conservative movement was not so strong and activist, more moderate candidates could have entered the presidential race without fear of being blackballed and framed as RINOs.
RELATED: David Frum Cuts Rush Limbaugh's Influence Down To Size
Yet despite all his criticisms of the party, Frum maintains he is still a Republican and intends to support his party's nominee against President Obama next year.
Watch the video below, courtesy of CNN:
Have a tip we should know? [email protected]
Josh Feldman - Senior Editor