David Frum Reacts To Hannity's Palin Interview: "She Should Stop Talking Now"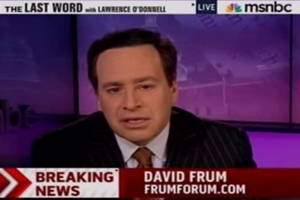 Perhaps anticipating that the media would begin ripping Sarah Palin's interview with Sean Hannity earlier tonight underestimated the speed of the news cycle. Less than an hour later and a network away, Palin's fellow conservative David Frum responded to her comments with a good-natured plea for her to just "stop talking now."
On MSNBC's The Last Word, Lawrence O'Donnell noted that he would have wanted to hear Palin explain the difficulty of finding an appropriate timing to respond to the attacks on her, introducing the review of her performance on Hannity without deeply analyzing any particular part of it. Frum didn't explain what he would have wanted to see, but he made it clear that, whatever it was, it was not yet another media appearance about the same topic.
"She should stop talking now," he put it, rather curtly, though the extended explanation of why seemed more favorable to her than this may indicate. His argument appeared not to be that she was incapable of speaking eloquently (though that implication was certainly present throughout this discussion), but that meta-responding to a response she already gave– the video statement she released days after the massacre– would only dig her deeper into her current political hole. "There is no one left in America that would blame her" for Tucson, he argued, and so the defense seemed far too vocal.
"What should have happened was that one video released should have been the end of it," he suggested instead, noting that this last interview was a result of Palin being "all too aware" of the attacks on her and, as such, "very shaken." Even though that first video was a "disaster" and "failure," according to Frum, "you have to live with the consequences and just cease."
The Huffington Post's Howard Fineman, who was also on the panel, agreed with Frum that "her answers didn't add up or make sense" and that she appeared "rattled." Moreover, Fineman argued that her interview answers did little to assuage the average American viewer, and even though "she was only talking to her own core supporters," her answers were barely enough to calm them down, either.
The segment via MSNBC below:

Have a tip we should know? tips@mediaite.com