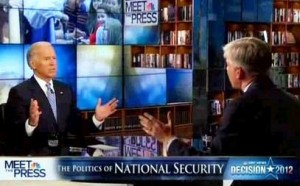 Vice President Joe Biden sat down for a lengthy interview on Meet the Press today, and obviously he ended up talking about the recent hay being made over attempts by the Obama administration to use the death of Osama bin Laden to attack Mitt Romney. David Gregory asked Biden why he and the rest of the administration has been implying that Romney would not have carried out the now-infamous mission.
RELATED: Joe Biden Whacks Mitt Romney On 'Heaven and Earth' Osama bin Laden Remark
Gregory asked if Obama attempting to use bin Laden's death as a campaign tactic his equivalent of the "Mission Accomplished" moment. The president brought up the death during his recent visit to Afghanistan. Biden explained that Obama met with Hamid Karzai to sign a document that took almost two years to produce, and the timing was purely coincidental.
But Biden argued that the bin Laden killing was a perfect example of a president making a huge promise to the American people and actually getting it done. So talking about his major accomplishment, as Biden argued, is perfectly reasonable. He did not profess to guess what Romney would have done were he the president, but he did bring up Romney's past comments that he wouldn't want to devote too much manpower to finding just one person. Biden revealed that at the start of his presidency, Obama made it quite clear that one of his top national security priorities was to get bin Laden.
Gregory, however, brought up Biden's line at a recent speech that "Osama bin Laden is dead and General Motors is alive," and then hypothetically asking if the reverse would be true under President Romney. Gregory also pointed out that Biden himself opposed the action Obama eventually took, so it might strike people as hypocritical for Biden to say Romney would not have done it. The vice president made it very clear that he was not trying to suggest Romney would not have carried out the mission, but did point out that Obama had a tough call to make and he went against the advice of many in his inner circle to carry out the mission.
RELATED: Mitt Romney: 'Disappointing' For Obama To Politicize Bin Laden Raid By Mentioning Me
Finally, Gregory offered up Biden a softball: would America be a weaker nation if Romney is elected president? Biden said it's certainly been stronger under Obama, but did say that the "prism" through which Romney looks at the world might not make us any safer. Oh, and he referred to the Republican candidate as "President Romney."
Watch the video below, courtesy of NBC:
Have a tip we should know? tips@mediaite.com
Josh Feldman - Senior Editor