David Gregory Defends Media Focus On Santorum's Social Views: 'You've Made This A Centerpiece Of Your Public Life'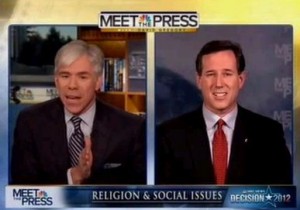 Rick Santorum continued to defend the role of religion in public life today on Meet the Press, where he pointed to all the men, women, and great political movements of American history, many of whom influenced by their faith. He pointed to the civil rights movement as an important example of that, and dismissed the idea of the separation of church and state as a "dangerous idea." He went after President Obama for not just enforcing the wall of separation, but crossing over it and having the government supercede religious liberty.
RELATED: Santorum Explains Why JFK's Speech On Religion & Politics Makes Him Want To 'Throw Up'
David Gregory brought up a Wall Street Journal column saying while Ronald Reagan was simply contented with letting cultural conservatives live how they want to, Santorum is more concerned with telling people how to live their lives. Gregory asked Santorum if he would continue to focus on issues like abortion and gay marriage if he were president through the bully pulpit.
Santorum tried to blame the media for always asking him about social issues, but Gregory called him out on it. Gregory said going back to the days when Santorum was in Congress, social issues have been an important part of Santorum's agenda, if not its focal point.
"The notion that these are not deeply held views worthy of question and scrutiny, it's not just about the press."
RELATED: Media Shifts Attention To Rick Santorum's 2008 Speech About Satan's Influence On U.S.
Santorum responded by simply blaming the media again and suggesting Gregory was cherry-picking quotes of his from over a vast political career. He claimed "there's no evidence at all" that he wants to impose his values on everybody else, but he will keep talking about the family as it pertains to the economy because it's one of the many "practical problems" Americans are concerned with.
Watch the video below, courtesy of NBC:
Have a tip we should know? [email protected]
Josh Feldman - Senior Editor