David Gregory Defends President Obama Against Rick Santorum's Accusation Of Appeasement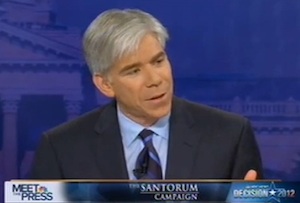 On Sunday's Meet The Press, David Gregory called out surging Republican presidential candidate Rick Santorum on a speech he gave last month to a Republican Jewish Coalition Candidates Forum, comparing President Obama's foreign policy to appeasement during World War II. "How can that possibly be accurate, if you take an objective look at the foreign policy of this administration? What on Iran, specifically, separates the approach that President Obama has taken and that of President Bush?"
"Number one, he didn't support the pro-democracy movement in Iran in 2009 during the Green Revolution," Santorum responded. "Almost immediately after the election — I mean, excuse me, like within hours after the polls closed Ahmadinejad announced he won with 62% of the vote. Within a few days, President Obama basically said that that election was a legitimate one."
"I understand why the president would understand someone announcing the minute after the polls close that he won, I mean he comes from Chicago," Santorum snarked. "So I get it.
"But the problems is problem was this was an illegitimate election, the people in the streets were rioting saying 'please support us President Obama, we are the pro-democracy movement. We want to turn this theocracy that's been at war with the United States', that's developing a nuclear weapon, that's killing our troops in afghanistan and iraq with ieds and the president of the united states turned his back on them. at the same time, a year later we have the same situation where muslim brotherhood and islamists are in the streets of Egypt opposing an ally of ours, not a sworn enemy like Iran, but an ally of ours in Mubarak and he joins the radicals instead of standing with our friends!"
"That's patently contradictory, if you say you support democracy," Gregory contended. "How can you be pro-democracy in some countries but not others?"
"No, the Muslim Brotherhood is not about democracy," Santorum replied. "The Muslim Brotherhood are Islamists. They're going to impose Sharia law –"
"But I asked you about disarming Iran," Gregory interrupted. "There is no material difference in terms of how the Bush Administration sought to disarm Iran and what the Obama Administration has done."
"There's a material difference in this respect. Number one, the Bush Administration worked with me, in passing the Iran Freedom Support Act which I authored which imposed tough sanctions on the Iranian nuclear program, and provided funding for the pro-democracy movement. When President Obama came into office he cut that funding. President Obama did not provide funding in to Iran to help those folks who wanted to overthrow this democracy and when the time came to support them, he chose not to. That is a substantive difference between my policy, which I was a leader on in the Senate, and when President Bush tried to do when he was president."
"The reality is there is no good option to disarm Iran," claimed Gregory.
"Yes, there is," Santorum maintained.
While Santorum did not protest Gregory's aggressive questioning, the heavy-handed way in which the Meet The Press host continued to persistently hammer him will most likely spur accusations of bias in his defense of the Obama Administration. Contrast his questioning, with Candy Crowley 's earlier, less-combative interview with Santorum on the same topic.
Watch Gregory's heated interview with Santorum over Iran below via NBC:

Have a tip we should know? tips@mediaite.com