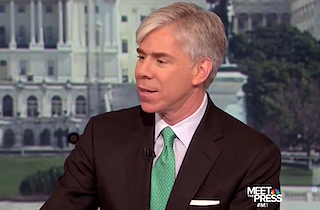 At the top of Meet the Press Sunday morning, host David Gregory suggested that President Barack Obama had "in effect ended the debate" on the NSA's expansive surveillance program by declaring its necessity to national security in a speech on Friday, in the face of a presidential commission report suggesting reforms.
"Isn't it significant that after all the hue and cry, after all these revelations by Snowden, the president has in effect ended this debate by saying, 'These programs are going to stick around, I need them to keep the country safe?'" Gregory asked.
"It's very hard to imagine fundamental changes in the program against President Obama's wishes," guest Newt Gingrich said.
RELATED: Former NSA Director: Obama 'Fading Left' in Speech, But Keeping Most of Intelligence Program
"That's the question," Gregory said. "Reformers: are they going to say, 'No, we're going to challenge these programs, we want to still stop this bulk collection of data?'"
"Reformers are already saying they want to stop the bulk collection," MSNBC host Andrea Mitchell said. She went on to point out that the program expires in June of 2015 unless Congress reauthorizes it.
"All the more reason for Congress to step up and have a real debate," Gregory said, though he had just suggested Obama had ended the debate. "Look, cat's out of the bag on a lot of stuff. Go down there and say what you're for."
Watch the full clip below, via NBC News:
[Image via screengrab]
——
>> Follow Evan McMurry (@evanmcmurry) on Twitter
Have a tip we should know? tips@mediaite.com