David Gregory: Newt Gingrich's Comments On Poor People Are 'A Grotesque Distortion'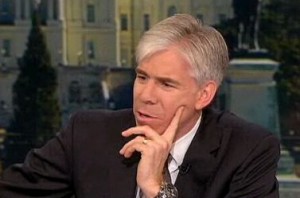 One of the most common criticisms of Newt Gingrich is that he's arrogant, and his comments last week declaring he will be the eventual Republican presidential nominee only served to reinforce the argument. On Meet the Press today, the panel sized up Gingrich's chances against Mitt Romney and President Obama. One topic of conversation was Gingrich's controversial comments about child labor laws, and David Gregory used surprisingly critical language in discussing them earlier today.
Regarding his boastful prediction, Gregory asked if it was "Good Newt or Bad Newt." Mark Halperin argued that while statements like those may have injured Gingrich in the campaign months ago, he has hit a point in the campaign where Republican voters are looking for a Churchill-like statesman, and Gingrich appears to fit the description better than any of his GOP rivals.
Harold Ford, Jr. suggested the comparison between Gingrich and statesmen like Churchill was tenuous at best, but he believed controversial remarks made by Gingrich in the past will be enough to turn independents away from him because of the nature of his criticism of President Obama. Katty Kay boiled the primary race down to Gingrich vs. Romney, which Romney's campaign is trying to frame as the Washington insider against the independent-minded outsider.
RELATED: Not An Onion Spoof: Newt Gingrich's Education Plan Is To Fire Janitors And Replace Them With Kids
Kay also claimed that some Republican insiders do not want Gingrich to be the nominee because he could not only lose the presidential election, but could cost the GOP several seats in Congress during an election year where they are poised to make even bigger gains. Joe McQuaid, publisher of the New Hampshire Union Leader, which endorsed Gingrich over Romney, brought up Gingrich's recent comments over child labor and predicted they would play well with conservative audiences. McQuaid cast Gingrich's child janitor plan as a way to re-instill a missing work ethic in poor communities.
Gregory challenged that assertion, and asked McQuaid how he did not see Gingrich's words as "a grotesque distortion of what's really happening out there."
Watch the video below, courtesy of NBC:
Have a tip we should know? tips@mediaite.com
Josh Feldman - Senior Editor