David Gregory Says Plouffe 'Broke New Ground' By Saying Mitt Romney 'Has No Core'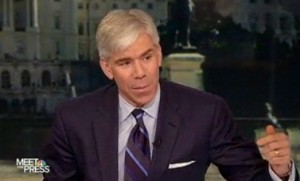 On Sunday morning's Meet The Press, host David Gregory told his panel that senior White House adviser David Plouffe "broke new ground" in attacking GOP establishment presidential hopeful Mitt Romney as having "no core."
Republican panelist Mike Murphy thought Plouffe owed Romney an apology, while Tom Brokaw pointed out that "the record is there," but they're all later to this party than Rip Van Winkle's Members Only jacket.

Gregory played a clip of his earlier interview with Plouffe, in which the senior White House adviser told Gregory that Romney "has no core," and that if Romney "thought it was good to say the sky was green and the grass was blue, that to win an election, he'd say it."
Panelist Tom Brokaw said he thought "using the core question probably took it over the edge just a little bit. But the record is there about how he's flopped."
Brokaw disagreed with fellow panelist and GOP consultant Mike Murphy, who earlier said that Plouffe should apologize to Romney because politicians change positions "when they get new information."
This is really an apples to orchards comparison, though, since Romney has a long record as the political world's Bert Campenaris. Jake Tapper, who's regarded as about as impartial a reporter as there is in Washington, recently noted that on the issue of Libya alone, Romney took a Kama Sutra's worth of positions. In Romney's case, the "new information" appears to be poll numbers, if anything.
Whether you agree with Brokaw or Murphy, though, this attack by Plouffe is about as groundbreaking as a balsa wood shovel. former Obama spokesman Bill Burton's Priorities USA Action PAC has been hammering Romney on this since the Mesozoic Era. Longtime Obama adviser David Axelrod made news in August when Politico reported a broad strategy to target Romney as "weird" (which Axelrod disputes), quoting Ax as saying "Presidential campaigns are like MRIs of the soul," and ""If you were to write the history of his political career, it would be called 'Extreme Makeover.'"
Burton even used the exact phrase "Mitt Romney has no core principles" in comments to Mediaite in August. The Romney campaign, for its part, put out a campaign ad that touched on Team Obama's blistering attacks. Their premise, that the Obama campaign is "nervous" about Romney's candidacy, might be a slight overstatement, but it definitely reflects the fact that the President, and his advisers, see a Romney nomination as a near-inevitability.
The fact that Mitt Romney flips like Nadia Comaneci on an IHOP brunch shift probably won't stop him from getting the GOP nod, and it will certainly be an issue for him if/when he has to face Barack Obama, but the Obama campaign's relentless assault on Romney is nothing new.
Here's the clip, from NBC News' Meet The Press:
Have a tip we should know? tips@mediaite.com