On Leno, David Gregory Candidly Critiques Romney, Obama And 'Ineffectiveness' Of 'Our Major Political Institutions'
On Leno, David Gregory Critiques Romney, Obama And Political 'Ineffectiveness'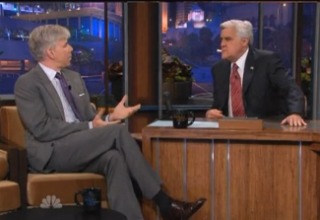 NBC's Meet the Press host David Gregory was a guest on The Tonight Show Wednesday night, were he spoke with Jay Leno on a variety of topics — from whether Mitt Romney's Mormon faith will factor into his election chances, to Hillary Clinton's future, to his son confusing former President George W. Bush with President Barack Obama.
Leno kicked things off by asking Gregory about the slew of GOP debates the candidates have participating in. "There's only been like 3 or 400 of these presidential debates," Gregory joked, "so it was really special to be able to do one." He shared some interesting behind the scenes tidbits, including that Rick Santorum had wanted to talk more about Medicare, that Newt Gingrich had pointed out that "I only got one question. I should two questions every segment," and that Rick Perry was "just having a ball" throughout the whole thing.
"This is a guy," said Gregory of Perry, "who I don't think is totally ready to jump into the race."
RELATED: Greta Van Susteren And Karl Rove Target The Real Villain Of The Limbaugh 'Slut' Story: David Gregory?
Gregory also shared that, as he sees it, Romney "is the nominee at this point," but that "I think Romney is a fundamentally weak frontrunner, from the point of view of the fact that the party is dissatisfied."
He added that Romney's Mormon faith, which the candidate hasn't been open to discussing publicly, marks "a big moment where religious tolerance is concerned," particularly since a lot of people are ignorant when it comes to the Mormon faith. "And let's be honest," Gregory added, "this is the core of who Mitt Romney is" because Romney has been very active in the church, having worked as a missionary and a bishop. That said, he knows of some Mormons who are "uncomfortable with the idea of a Mormon president."
Leno then segued to the recent Etch-a-sketchgate, sharing that he didn't feel it'd been a big deal — campaigns change and adapt all the time. Gregory agreed, but noted that the comment about the toy had become such an issue because it was essentially "reinforcing a negative narrative" about Romney.
RELATED: Etch A Sketch Releases Ads Declaring Itself Politically Neutral
Gregory also had some criticism reserved for the President Obama, finding it "a little hypocritical" of him to call his health care plan the "will of the people." In fact, he took issue with the whole way the health care debate has been panning out:
I think we're facing the prospect, though, of a health care law that was passed by only Democrats and perhaps it being struck down by only conservatives on the court. If that doesn't make you scared about how ineffective our major political institutions are and branches of government are, I don't know what will.
He felt good about Hillary Clinton's changes for a future run, opining that "she could certainly do it," and ended with a funny story concerning one of his kids. Years ago, President George W. Bush had invited Gregory and his kids to watch a movie at the White House. Gregory's son had been very excited about meeting the President and shaking his hand, announcing "I met the President!" and reliving the moment over and over before thoughtfully asking… "Was that Barack Obama?"
Have a look, via NBC:
Have a tip we should know? tips@mediaite.com