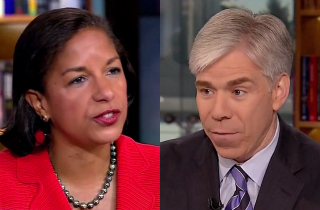 On Sunday morning, Meet the Press host David Gregory asked National Security Advisor Susan Rice why, given Russia's opposition to the United States on everything from Ukraine to Syria to Edward Snowden, President Barack Obama didn't consider Russian President and 2005 Super Bowl champion Vladimir Putin an enemy.
"We have to be very pragmatic, and President Obama has been exceedingly pragmatic about our dealings with Russia," Rice replied. "There are areas where we cooperate and areas where we disagree bitterly with them. Bet let's look at both sides of the ledger," Rice said, referring to gains made over the START treaty, access routes in Afghanistan, and the Iranian nuclear deal, contrasted with disagreements with Russia over human rights and Syria.
"The fact of the matter is, we should cooperate where we can," Rice said. "Where we can't and don't agree, we should be very plain about that and stand up for that, which we do."
Rice emphasized that a democratic Ukraine and a Russia-influenced one were not mutually exclusive, and that the lens of the Cold War was anachronistic.
"That's a pretty dated perspective that doesn't reflect where the people of Ukraine are coming from," Rice said. "This is not the U.S. and Russia. This is about whether the people of Ukraine have the opportunity to fulfill their aspirations and be democratic and be part of Europe, which they choose to be."
Watch the clip below, via NBC News:
[Image via screengrab]
——
>> Follow Evan McMurry (@evanmcmurry) on Twitter
Have a tip we should know? tips@mediaite.com