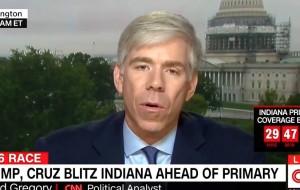 It's official. David Gregory is now in the opinion news game. The former Meet The Press moderator appeared on CNN Newsroom this morning, where he made a pretty bold statement that Donald Trump is "not a conservative" as he went over the mogul's relationships with his supporters and the Republican Party. Gregory even went so far as to call him 'barely a Republican."
Speaking with CNN's Carol Costello, Gregory explained that the #NeverTrump movement would have an extremely hard time going forward if Trump manages to sweep in a socially-conservative state like Indiana in tomorrow's primary. After Our Principles PAC adviser Ken Blackwell and pro-Trump councilman Joseph Borelli fought over the logic of Ted Cruz staying in the 2016 race, Costello asked Gregory about whether the #NeverTrump movement had any success at all in showing how certain proposals from Trump are inconsistent with Republican Party platforms.
Gregory agreed with Blackwell, but also stated that the party as a whole will probably get behind Trump in order to win November, even if he's "barely a Republican."
"There is certainly support behind Ted Cruz and what Ken is saying is absolutely right, which is the rank and file of the Republican Party doesn't like Trump because he's not a conservative. He's barely a Republican. He's post-ideological. He's not an ideological candidate and that is why I think, I know, both Republican officials and establishment Republicans are starting to say 'look we may be holding our nose a bit but this guy has potential we may not be able to imagine in terms of how well he can do in November."
Gregory rounded off his point by stating that the GOP is likely to back Trump because his unpredictability factor may offer a stronger possibility for victory than what Cruz is estimated to present when it comes to November. Despite that, calling Trump — not a conservative, and hardly a Republican — is certainly not going to sit well with Trump's supporters, and, of course, the presidential candidate himself.
Watch above, via CNN.
[Image via screengrab]
— —
>> Follow Ken Meyer (@KenMeyer91) on Twitter
Have a tip we should know? tips@mediaite.com