David Letterman Asks Herman Cain If He Will Drop Out If Sexual Harassment Allegations Prove True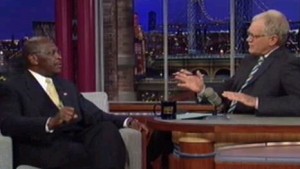 Herman Cain appeared on The Late Show last night, and perhaps one of the highlights of the interview was when David Letterman asked the candidate about the accusations of sexual harassment threatening to damage his candidacy. Letterman sympathized with Cain, having gone through a similar situation himself, but asked the Republican candidate if he plans to drop out of the race if any new evidence emerges against him.
Cain told Letterman people are more concerned about the economy and job security than salacious details about his personal life, and he intends to keep the campaign about the issues. Letterman retorted by pointing out that since Cain does not have a previous record in political office, the American people have to judge what kind of a person he is based on the details of his business life.
The candidate then turned specifically to the allegations made against him by several women while he ran the National Restaurant Association. Cain argued that no accusations were even made until he started to dip his toes into politics. Letterman explained this is how it always works in politics, you learn more and more about candidates as they rise in the polls and make more of a national showing.
Letterman mentioned his own sexual scandal of sorts before telling Cain the different scenarios he can expect going forward in the campaign.
"One of two things will happen. You will be proven, you'll be exonerated, they will all turn… it'll be like Justin Bieber. All of that's going away. Or they will prevail and there will be someone else coming forward. 'Herman did this, this is the money I received, here's exactly the documentation you need to prove he's lying.' Now what happens if that's the case? Will you drop out of the campaign if that's the case?"
Cain insisted there was zero evidence to back up any of the accusations, and he clarified for Letterman that there was no settlement, merely a "severance agreement." Letterman asked Cain if he'd ever been in a situation where he did something in the presence of a woman that he later thought made them uncomfortable. Cain agreed, highlighting the importance of dealing with sexual harassment in the workplace.
Watch the clip below, courtesy of CBS:
Have a tip we should know? tips@mediaite.com
Josh Feldman - Senior Editor