David Letterman Blackmail Shocker: Host Confesses To Affairs After Extortion Attempt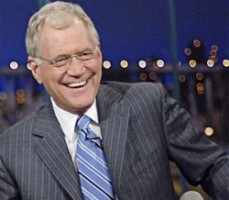 "I have a little story that I would like to tell you, and the home viewers as well. Do you feel like a story?" So began David Letterman tonight, after the first commercial break, sitting at his desk before the monologue. It felt like a normal show — there were one-liners and punchlines — but what happened next was anything but a bit.
On national television, before an audience of millions (and no doubt many millions more via YouTube in the days to come), David Letterman admitted that he had had affairs with female staffers on his show — and was being blackmailed by someone about it, to the tune of $2 million.
Letterman said he testified before the Grand Jury this morning, and that the extortionist had been arrested. CBS News confirmed that one of their employees, who worked at 48 Hours had been arrested; TMZ reported shortly before midnight that it was 51-year-old Robert Halderman, and that CBS had suspended him "pending results of the investigation."
The man, said Letterman, had left a package in his car, a letter about all the "creepy" stuff he had done. The audience laughed gamely as he told the story, explaining how he'd gone to his lawyer and they'd met the extortionist, who threatened to reveal Letterman's misdeeds in a tell-all movie script based on the host. Letterman explained how he'd contacted the Special Prosecution Bureau of the Manhattan District Attorney's Office, and had given his extortionist a fake check for the $2 million.

"A little bit after noon today, the guy was arrested," said Letterman. The crowd applauded wildly — a feel-good ending to a story where the laugh lines had become less and less apparent.
Through the telling, Letterman referred to his "creepy" misdeeds but did not elaborate on them. Of the Grand Jury testimony, he said "I had to tell them all of the creepy things that I have done," as the audience laughed. "Well, now why is that funny?"
Ouch. It wasn't.
"I have had sex with women who work for me on this show," said Letterman.
Silence.
"Now, my response to that is, 'Yes I have.'" The audience laughed, but it wasn't a punchline, it was a tension-breaker.
"Would it be embarrassing if it were made public? Perhaps it would," said Letterman. "I feel like I need to protect these people. I need to certainly protect my family."
This is the part where all the news reports mention that Letterman married girlfriend of 23 years, Regina Lasko, earlier this year, and that they have a son, Harry, who is 6.
Said Letterman: "This whole thing has been quite scary."
CBS spokesman Chris Ender said that "Letterman's comments on the broadcast tonight speak for themselves."
This is the second time Letterman has made headlines lately: He recently took over the number-one spot in the late-night time slot following Conan O'Brien's takeover of Jay Leno's chair on The Tonight Show.
A full transcript of Letterman's remarks tonight may be found here.
p.s. Tonight's guests were Woody Harrelson and Kim Kardashian, promoting her new exercise video. That part felt a little awkward.
(Image via.)
Have a tip we should know? tips@mediaite.com