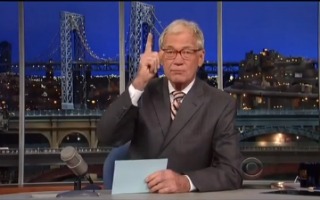 By now, you're probably familiar with Late Show host David Letterman's ongoing "feud" (It's more like half a feud, really, so let's just go ahead and call it an "ud.") with Mr. Mitch Romney over the candidate's refusal to visit the show. Well, Romney's continued "first-rate snubbing," as Letterman put it, has gotten to the host to the point that he straight up told his viewers not to vote for the GOP candidate unless he visits the program.
RELATED: Letterman Still Upset By Romney's Leno Comment, Implores 'Delusional' Mitt To Come On The Show
Letterman told his audience that the show makes fun of everyone, but that Romney just happens to be "funnier than Obama." Furthermore, Letterman said, he's an Independent and doesn't have "a dog in this fight," so his teasing of Romney is… more professional, we'll say, than personal.
But that doesn't mean that Letterman is going to mince his words when it comes to how he feels about being overlooked by Romney.
"What I'm getting a whiff of here is that he's yellow," said Letterman. He expressed doubt on how a President Romney is going to "take on China" if he can't even steel himself enough to sit down with a late night talk show host.
To further drive his point home, Letterman dedicated the night's top ten list to reasons Romney should appear on his show. (Reason #5: "None of our cameras are hidden.")
Have a look, via CBS:
h/t NewsBusters
Have a tip we should know? tips@mediaite.com