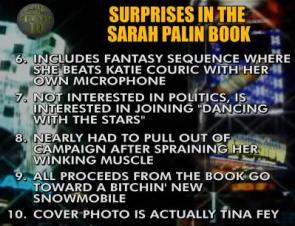 Sarah Palin will be interviewed by Oprah Winfrey, Barbara Walters, Rush Limbaugh, Sean Hannity and more this week, but one place she won't be showing up is on David Letterman's Late Show couch.
But that didn't mean the late night host (who has…some history with the former governor) would stay silent about "Going Rogue."
Letterman devoted a Top 10 list to the "surprises" in Palin's new book (via Political Carnival).
The list itself was mild by Letterman's standards – the biggest shots were reserved at Todd Palin (#1 was "even Sarah doesn't know what Todd does") and Levi Johnston (#2: "Includes Levi Johnston centerfold"). In fact, the list was aimed at other pop culture references more than Palin herself – with jokes about Twilight and Jon Gosselin.
But anytime there's a situation where Letterman jokes about Palin, it will conjure up reflections about that now-infamous joke in June about her daughter and Alex Rodriguez – and subsequent apology. Still, it should be noted that it didn't stop Letterman from joking about the candidate, drawing the ire of Fox & Friends for his jabs at Palin when she quit as governor in July.
And when Letterman became the story himself in September, he threw some jokes her way as well. But they've become a bit less harsh – and at the very least, diverted the focus away from her kids, which is what got him in trouble the first time. Jokes about her one-time-almost-son-in-law? Fair game…
Here's the Top 10 list last night:


—–
» Follow Steve Krakauer on Twitter
Have a tip we should know? tips@mediaite.com