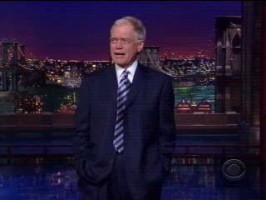 David Letterman's seemingly schizophrenic first 15 minutes of tonight's Late Show spanned the spectrum from funny to serious, all while sticking firmly to the subject of his extortion/sex with staffers revelation last week.
As Rachel Sklar asked earlier tonight, "Which Letterman should we believe?" Well here's what they both had to say.
In addition to the jokes released in the monologue clip earlier tonight (video below), here were a few more from the monologue:
There's a possibility that I'll be the first talk show host impeached.

It's Fall here in New York City, and I spent the whole weekend raking my hate mail.

It's cold too. Chilly outside my house, chilly inside my house.

Normally when I'm shaken down for money, it's my relatives.

This is only phase one. This is phase one of the scandal. Phase two, next week I go on Oprah and sob.
This was phase one of Letterman's handling of the awkward situation. The funny, self-deprecating, somewhat surprising route. Then, after a commercial break, he got serious:
I wasn't going to talk about it anymore, but it seems like people want to talk about it. And when you're blackmailed, it's a crime and you are a victim. It's felony extortion is what it is. And it's a nasty thing to do to people. Now being a victim, and if you happen to, your behavior is responsible for hurting people, that's a separate part of the equation. And it did not occur to me last week when I was discussing having had sex with women who worked on this show, that then what would happen is reporters and newspaper people and radio and TV would start hounding the staff and saying, 'What do you say, are you, and this and that.' It was very, very unpleasant and I would just like to set the record straight, no, I'm not having sex with these women, those episodes are in the past. So my apologies to subjecting them to that vulnerability.
It's equally surprising that Letterman didn't think the press would look into who these women would be, since he decided to admit to this in such a public setting, and in such a vague way (considering the salacious subject matter). Then he moved to his wife. "She has been horribly hurt by my behavior. And when something happens like that, if you hurt a person, and it's your responsibility, you try to fix it," he said. "Let me tell you, folks, I got my work cut out for me."
He did throw in a joke at the end: "Now because what can it hurt, I'd like to apologize to the former governor of Alaska, Sarah Palin."
He joked about being the "first talk show host impeached," but while impeachment won't happen, the legal entanglements are likely just getting started. The lawyer of the man arrested for Letterman's extortion, Robert J. Halderman, was out over the past couple days dropping hints to what the defense of his client would be – and bashing Letterman in the process. Tonight he told the New York Times "he would put forward evidence that Mr. Letterman had engaged in sexual harassment of his staff members."
So…jokes!
Seriously, more media coverage will come tomorrow and the rest of the week (and weeks and months ahead) about the story, the various legal issues as well as Letterman's public handling of the situation. If anything comes out of this, Letterman will likely gain an even bigger nightly audience as he further cements his place as the top late night host. Cynics will say this is a ratings ploy, but there has to be more to it. Whether CBS and Letterman's lawyers agree with the out-in-the-open, half-joking (literally and figuratively) route the CBS host has chosen to deal with these issues, we'll find out soon. As long as Letterman keeps talking.
Here's part of the monologue tonight:


—–
» Follow Steve Krakauer on Twitter
Have a tip we should know? tips@mediaite.com