David Petraeus Tells HLN's Kyra Phillips: I Didn't Pass Classified Information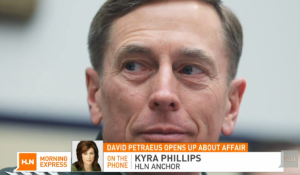 On Thursday, HLN's Kyra Phillips spoke about the conversations she's had with former CIA Director David Petraeus since he announced he was resigning due to an extramarital affair. Phillips reported that Petraeus said he had never passed classified information — and that his resignation was unrelated to the Benghazi attack.
"In our first conversation," Phillips said, Petraeus "had told me he had engaged in something dishonorable. He sought to do the honorable thing in response — and that was to come forward."
"He was very clear that he screwed up terribly, that it was all his fault," she said. And "even felt fortunate to have a wife who is far better than he deserves."
As for the concerns about classified information, Petraeus said he never leaked anything to Paula Broadwell, the woman with whom he was having an affair. He said he has not spoken to Broadwell since the news broke, nor did he try to keep his job.
"He insisted to me that he has never passed classified information to Paula Broadwell," Phillips said. "He said this has nothing to do with Benghazi, and he wants to testify. He will testify." On a more personal note, Phillips added, "As long as I have known him, he has never wavered on classified information, ever, to the best of my knowledge."
"And I also have never known him to tell me something that is not true," she said.
Indeed, Petraeus has been scheduled to testify before the House and Senate intelligence meetings about the attack on the U.S. consulate in Libya. The closed-door sessions will take place this week.
Phillips reiterated Petraeus' insistence that the resignation was for personal reasons, having nothing to do with leaks of classified information or Benghazi.
Phillips' report below, via HLN:

Have a tip we should know? tips@mediaite.com