David Plouffe: "Palin, Limbaugh, Beck And That Wing Of The Party Is In Control"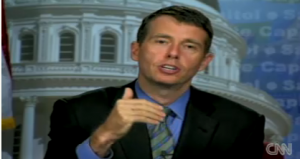 Pres. Barack Obama's 2008 was a guest on CNN's John King, USA last night, and weighed in on the primary election in Delaware today and Newt Gingrich's recent "Kenyan" comments.
Plouffe echoed a familiar theme in politics when looking at Delaware, and the current Republican party as a whole – blame the media (well, the conservative media).
Plouffe looked to Delaware as a representation of the current Republican party – where the primary has been dubbed Tea Party vs. GOP. But while Sarah Palin has endorsed Christine O'Donnell, Plouffe continues the convenient grouping of Rush Limbaugh and Glenn Beck:
This is the Republican party. That Palin, Limbaugh, Beck and that wing of the party is in control. And if you look down the line in elections, even in '12, where you're going to have 60, 70 million more voters, I can tell you most of that increase is not people who are part of that extreme right wing.
We'll see what happens tonight in the primary, but if O'Donnell pulls off the upset over Mike Castle, expect Democrats, especially those associated with the Obama administration, to link this victory with their media critiques.
King also asked Plouffe to think as a "political strategist" and not a former Obama campaign manager to respond to Gingrich's "Kenyan" remark. "Two words that come to mind are 'sad' and 'reprehensible,'" he said. "It makes me think he's probably pretty sure he's going to run for President because he's clearly trying to appeal to the folks who are supporting Christine O'Donnell in Delaware."
He also suggested King "ask other Republicans out there whether they agree with that" – a line of questioning to expect this week and on the Sunday shows.
Here's the full interview:


—–
» Follow Steve Krakauer on Twitter
Have a tip we should know? tips@mediaite.com