David Shuster And Jennifer Rubin Square Off On CNN Over Mitt Romney's Wealth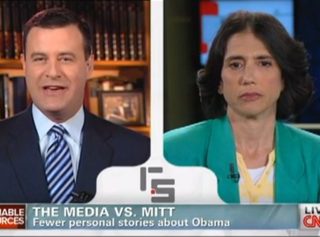 On today's Reliable Sources, the number of news stories about Mitt Romney's wealth posed the topic of conversation for Howard Kurtz and guests David Shuster and Jennifer Rubin, the latter who argued the stories of Romney's wealth were irrelevant and used unfairly against him, to which Shuster responded the media did the same thing to John Kerry in 2004.

RELATED: Republican Blogosphere Cuts Off Nose By Hounding Openly Gay Policy Advisor Out Of Romney Campaign
Rubin joked that she had established a "shiny object of the week" award for stories like those about Romney's mansion, arguing that the stories take time from "covering the current race" and hurt Romney unfairly. Shuster disagreed, arguing that the Politico piece this week arguing that the media was biased against Romney didn't cite statistics from Pew that showed otherwise and used Republican sources to corroborate their theory. When Kurtz brought up the story of President Obama's marijuana use and how it had been relegated to the sixth page, Rubin responded, "I have written a lot of posts within the Washington Post— they give me a lot of running room there– on all the stories they are not covering," instead choosing to cover Romney's house. Shuster didn't understand how she could cite herself on this issue since "you're not exactly a neutral observer" and "you're entitled to write whatever you want, but to suggest that you are the arbiter of media bias is strange."
Rubin argued that there was no way to disprove the stories she claimed weren't getting coverage were not, in fact, doing so, arguing that "the President has an interest in the media not looking at his record and the media is playing along." She later objected to the "repetition and the plethora of these stories" on Romney's health, a comment which prompted Shuster to remind her that the New York Times had attacked Kerry in a similar way much closer to the election. "The New York Times was running a full-time ad for Kerry!" she replied.
Two segments via CNN below:

—–
»
Follow Frances Martel on Twitter
Have a tip we should know? tips@mediaite.com