David Shuster Calls Dylan Ratigan Interview Of Andrew Breitbart 'Awful,' And A 'Love-In'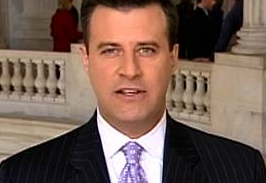 Ex-MSNBC anchor David Shuster took to Twitter to slam an MSNBC interview by Dylan Ratigan with Andrew Breitbart, calling it a "love-in," and then assuring followers his own interview with Breitbart would address "questions Dylan avoided" in his "awful" interview.
Saying he'd heard plenty of criticism of the MSNBC interview from friends at the network, Shuster insisted his comments weren't a feud. "I have no personal animosity towards @dylanratigan. Professionally, his love-in with Breitbart was inappropriate."
But by afternoon, Ratigan responded, beginning a back-and-forth via Twitter:
RATIGAN: Regarding @AndrewBreitbart, I don't agree with many of his targets or methods

SHUSTER: Not enjoying the "walk of shame" after his love-in? @DylanRatigan Re: @AndrewBreitbart, I don't agree with many of his targets or methods

RATIGAN: My purpose: Confront Andrew about his and the "tea-party's" failure to focus on the biggest problems: OUR BOUGHT POLS and the OLIGARCHY

SHUSTER: @dylanratigan Fine to question B-bart about Tea party not confronting oligarchy. But you also asked him about 2012. Yet no time 4 Sherrod?

RATIGAN: I'm interested in going after the whales, the truly powerful actually causing the problems bleeding USA. And questioning all who don't.

SHUSTER: @dylanratigan What "whales" were you "going after" when you lavished praise on BBart, elevated him to pundit, and asked him about 2012?
Then, after Ratigan listed a series of issues he considers critical:
RATIGAN: Those were and still are my questions for @AndrewBrietbart — and everyone else who claims they want to be part of the solution in America

SHUSTER: @dylanratigan Oh come on. You didn't ask B-Bart a single question about rigged trade with China, TBTF bank system, health care, or energy.
This may go on all day. So his your Twitter and enjoy.
Have a tip we should know? tips@mediaite.com