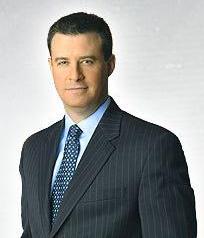 David Shuster isn't anchoring his 3pmET hour – which is significant, because he was there for his 10amET hour.
It appears Shuster may be in the MSNBC doghouse again after reports he shot a CNN pilot recently, which apparently happened without his MSNBC bosses knowing.
Felix Gillette of the New York Observer has the story about the CNN pilot process, and this nugget about the MSNBC anchor:
According to CNN sources, the network's in-house team shot a pilot for a news show featuring David Shuster of MSNBC and Michel Martin of NPR as co-anchors. The pilot, we're told, also featured medical and opinion segments, and included appearances by several current CNN contributors, including Chrystia Freeland, the U.S. managing editor for the Financial Times and Jeffrey Toobin of The New Yorker.
It's not unheard of for talent to talk to other networks, but a pilot is taking it another step further. Still, if MSNBC knew about it, it likely wouldn't be much cause for concern. That may not have happened. Spokesperson Jeremy Gaines tells Brian Stelter of the New York Times: "If true, this is unacceptable and David will be punished appropriately."
And in the short term – he's not anchoring at 3pmET. Shuster has already been trouble with MSNBC for his inappropriate tweeting, and hasn't used Twitter for months. One on-air sign of potential dissension at the network is his absence from Countdown, where he used to regularly fill-in. For the month of March, it was all Lawrence O'Donnell. An NBC insider tells Mediaite, "Shuster has never been a major player at MSNBC."
It's unclear what the outcome will be – and what the 'appropriate punishment' will entail. But Shuster's disappearance in the short term from MSNBC doesn't bode well for his future at the network (the NYT reports his contract is up at the end of the year).
—–
» Follow Steve Krakauer on Twitter
Have a tip we should know? tips@mediaite.com