David Webb On Piers Morgan Panel: 'Special Interests' Exploiting Zimmerman Case To Profit Off Race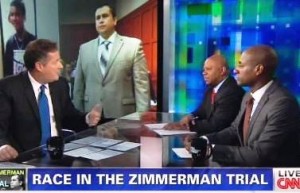 As Piers Morgan put it tonight, race has become an "inescapable, huge part" of the George Zimmerman murder trial. He discussed the racial issues raised with New York Times columnist Charles Blow and radio host David Webb, with Webb telling Morgan that the death of Trayvon Martin only became a national story after "special interests" got involved to exploit the racial aspects of the case.
Blow said that people can still hold subconscious racial biases even if they're not aware of them, and that could very well be what triggered Zimmerman's suspicion. Morgan noted that there is black-on-black crime in places like Chicago all the time, asking why the media doesn't cover things like that but the Zimmerman case has gotten so much media attention. Webb told Morgan, "When this white-shooting-black dynamic or white on black crime happens, it becomes a race-charged environment when the special interests get involved."
RELATED: O'Reilly To African-American Minister: Violent Crime In U.S. 'Overwhelmingly' 'Generated By Young Black Men'
Webb accused these special interests of profiting off race, though Morgan suggested the reason the case captivated people is because they felt an injustice in how "it looked like the guy had shot an unarmed black teenager and being allowed to go home." Webb added that "profiling someone is not necessarily about race" and it's difficult to know what's in someone's heart.
Webb also decried the "due process being polluted by a circus that's brought in by outside interests." Morgan said everyone can "huff and puff" about how unfair Florida law is, but ultimately, that's what the jury will have to base its decision on.
Morgan engaged in a back-and-forth with Blow over the inconsistencies in Zimmerman's story and whether they're significant enough to call his credibility into question. Moran said that if you believe Zimmerman, he was concussed and not thinking straight, so it's not that hard to imagine why his story might not be 100 percent accurate.
Watch the video below, courtesy of CNN:
—–
Follow Josh Feldman on Twitter: @feldmaniac
Have a tip we should know? tips@mediaite.com
Josh Feldman - Senior Editor