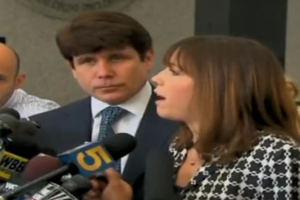 The day of reckoning has come for former Illinois governor and reality TV star Rod Blagojevich, and he's still singing the same song of innocence he gave the media on Day 1. Arriving at the courthouse for the first day of his corruption trial, Blagojevich received a spirited defense from his wife, Patti, who called this a "good day," because it was the first step towards her husband's vindication.
Blagojevich and his husband looked refreshed and ready to take on the day's activities, and Patti was defiant in front of dozens of reporters, thanking supporters and explaining that she was confident and positive about the beginning of the trial:
"Today is a good day because today is the day that begins the process to correct a terrible injustice that has been done to my husband, our family and to the people of Illinois. My husband has done great things for the people of Illinois, and continues to fight for them always. My husband is an honest man. And I know that he is innocent."
It was one of the few times Patti has been front and center at Blagojevich media events (excluding, of course, her memorable appearance on I'm a Celebrity, Get Me Out Of Here!), and it's refreshing to see that she barely deviates from the Rod Blagojevich formula of amusing press conferences, though her hair could be bigger. The CNN report also shows Rod Blagojevich interacting with the press, shouting "the whole thing's upside down!" and "God bless you!" at supporters. Yes, there were supporters.
Video of Blagojevich's grand entrance and Patti Blagojevich's words to the press below:

Have a tip we should know? tips@mediaite.com