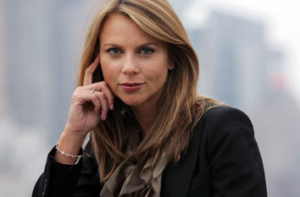 The day before the brutal attack on CBS correspondent Lara Logan, the journalist gave an interview to Esquire's Foster Kamer, talking about security for herself and her team in Egypt and the time she spent in police detention during her previous visit to the country just days earlier.
Kamer interviewed Logan on the flight to Cairo February 10, one day ahead of the brutal attack and sexual assault by a mob that's left Logan hospitalized back home in the U.S..

At the time of the interview, Logan discussed safety, but remained confident and unafraid. "There's no doubt in my mind that the situation we were caught in before, we are now arriving into again."
The situation she was caught in before was the detention of Logan and her crew, which she described for the first time to Esquire:
We were accused of being Israeli spies. We were accused of being agents. We were accused of everything." Not exactly turndown service. "I was violently, violently ill. I'd been ill for a few days — I hadn't mentioned it to anyone at CBS." So they gave you medical attention, this American ally? "Not at first, until I vomited so much that they did have a medic see me at this secret facility — they wouldn't tell us where we were. Then I was begging for an IV, and at first they wouldn't," as in, wouldn't give Lara Logan an IV, but then, "I vomited up everything that the medic gave me. I vomited all over the interrogation cell. I vomited all over this office they put me in after that, and so eventually they put me on an IV." And now you know what it takes to get a hydration IV in the middle of a regime upheaval in Cairo, and that's if you're an American and a journalist.
Have a tip we should know? tips@mediaite.com