Dean Fires at Santorum For Doubting Obama's 'Competence': 'I Lose My Patience With This Nonsense'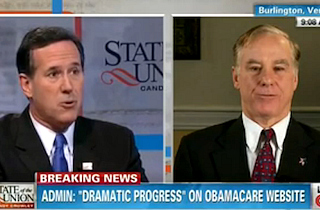 Former Vermont Governor Howard Dean and former Pennsylvania Senator Rick Santorum debated President Barack Obama's "competence" on CNN's State of the Union Sunday morning, with Dean accusing the former Republican presidential candidate of engaging in right-wing talking points meant to undermine Obama's character rather than critique the functionality of the Affordable Care Act.
"This really feeds into the president's competence," Santorum said of the ACA's malfunctioning website. "Obamacare is certainly front and center, what's going on in the Middle East is another area. There's a whole group of issues now that people are questioning."
"That's right-wing talking points against this president," Dean replied. "From day one, they've tried to undermine him as a human being."
RELATED: Fox's Wallace Grills Liberal Guest: Isn't Obamacare Just 'Income Redistribution?'
Though Dean was not a proponent of Obamacare, he cited the success of Massachusetts' health care reform, which served as a partial template for the national health care law, as precedent for its success.
"I fail to see how this has anything to do with the president's competence, other than the procurement process, which has been screwed up for many years, long before this president came into office," Dean continued. "I lose my patience with this nonsense. I do believe that the fact are going to be determined by what happens on the ground. Three months from now, a lot more people are going to have health insurance, and a lot more people are going to be happy with all this."
Watch the clip below, via CNN:
[Image via screengrab]
——
>> Follow Evan McMurry (@evanmcmurry) on Twitter
Have a tip we should know? tips@mediaite.com