Dear God, Make It Stop: Hoda And Kathie Lee Have Unending Chat About Grooming Habits 'Down There'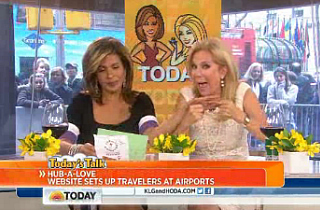 Did you ever wonder what Today fourth hour hosts Hoda Kotb and Kathie Lee Gifford think about female grooming habits… down there?
What's that? No? You really don't want to know? Well, TOO BAD.
For nine minutes this morning, the two hosts guzzled red wine, green beer, and told the entire world about very specific female grooming habits.
There was "vajazzling" — the art of applying fake jewels and glitter to a female's nether-regions.
We also found out that Kotb is partial to the "landing strip" style of grooming. And so Kathie Lee engaged in some shaming, asking whether men are supposed to make plane noises while… landing.
And oh boy did Kathie Lee love making her plane noises… over and over again.
There was discussion of the best airports to meet men. And going straight to the Hyatt afterwards. So somebody can "land" on your "landing strip." Get it?!?!?!
Eventually, Hoda tried to get Kathie Lee to confess what she "does" with her area. "It only matters to the person who has access," Gifford insisted, but then elaborated that "gardens need tending."
Just when it couldn't get any more strange, Kathie Lee asked off-camera stage hands what "type" are you — i.e., how do you trim your pubic hair? One said "hardwood floors," the other was much more shy.
You know what. I don't even want to transcribe this conversation, because just… no. Let's not. Just watch for yourself and enjoy or something:
— —
>> Follow Andrew Kirell (@AndrewKirell) on Twitter
Have a tip we should know? [email protected]