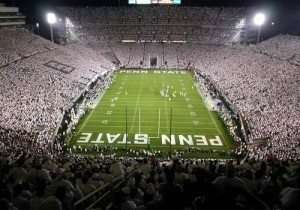 That title, "Dear Media, Penn State is not a 'sex scandal,' it's a rape scandal," comes from a tweet that I sent out earlier, in response to the umpteenth such reference I heard today to the sickening story that's rightly blighting the careers of many associated with Joe Paterno's football program. The chatter I've been hearing all day, though, did not prepare me for the shocking number of media references to this story as a "sex scandal."
Since the story of child rape allegations against former Penn State football assistant Jerry Sandusky first broke a few days ago, I've sort of avoided the subject, hearing bits and pieces at the margins, because it's the kind of story that's not good for me. It's the kind of thing that's liable to make me say something that'll get me fired or thrown in jail, and is also probably not the best thing in the world for my ticker.
Earlier today, though, a friend on Twitter caught my eye with a Maureen Dowd column on the subject. She related the story to her own 10 year-old nephew, a Penn State fan. Here's a brief, stomach-turning excerpt:
Paterno was told about it the day after it happened by Mike McQueary, a graduate assistant coach who testified that he went into the locker room one Friday night and heard rhythmic slapping noises. He looked into the showers and saw a naked boy about 10 years old "with his hands up against the wall, being subjected to anal intercourse by a naked Sandusky," according to the grand jury report.

It would appear to be the rare case of a pedophile caught in the act, and you'd think a graduate student would know enough to stop the rape and call the police. But McQueary, who was 28 years old at the time, was a serf in the powerfully paternal Paternoland. According to the report, he called his dad, went home and then the next day went to the coach's house to tell him.
The (cruelly) ironically named Paterno then passed the buck to another sick coward, and so on, and Sandusky had his locker room keys taken away.
Suffice it to say, there ought to be a special place in Hell (which, for purposes of this story, I'm prepared to believe in) for the pieces of garbage involved in this story, a place where the cruelest agony is dispensed as a half-time treat, a Hell to make the Devil himself weep, with a seat on the 50 yard line for me. I'm going to stop here, because all I can think of right now are curse words.
The media's treatment of this crime against humanity adds insult to injury. This is nothing new, of course. The nomenclature surrounding "sex crimes" is already hopelessly sterile, and the media routinely refers to cases of rape and sexual assault as "sex scandals," but that makes it no less important to call them out every time they do it.
Sandusky is not accused of "having sex" with little boys, he is accused of raping them. In our civilization, "sex" with a child is not possible, since a child cannot consent to sex. As I half-listened to the news all day today, then, and I heard repeated references to "the Penn State sex scandal," it pissed me off. It made my blood steam a little bit, like a hot cup of coffee.
What made my blood boil was a quick search of the term "Penn State sex scandal" on the TV Eyes transcription database, which revealed 3,591 instances of the phrase…since yesterday.
Drop the quotation marks, and you get almost six thousand references, which include instances of the phrase "sex abuse scandal," which is only a slight improvement ("sexual abuse" would be more accurate). "Sex abuse" sounds like you're grabbing jars of sex out of your medicine cabinet and wolfing them down. Yes, it has an understood meaning, but it doesn't come anywhere near evoking the enormity of the crime.
While I'm on the subject, the term "abuse" is also wholly insufficient, although this is a function of our culture, not the media. "Abuse" has a softness to it, the implication that something acceptable was done to excess. Things like "child abuse," or "domestic abuse," or even "sexual abuse" would be more accurately described as "assaults," and would probably taken more seriously if they were so called.
Changing that kind of cultural, linguistic bias is probably an overreach, but surely, we can all agree that this scandal has nothing to do with "sex?"
Have a tip we should know? tips@mediaite.com