Debate Moderator Apologizes to Scott Brown After Falsely Correcting His Geography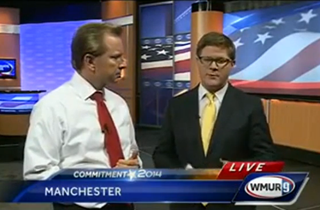 Last night, a debate moderator was forced to apologize to former Massachusetts Sen. Scott Brown, after the GOP candidate proved that he, in fact, did know something about New Hampshire, which he now hopes to represent in the Senate.
"You both live on the seacoast, so let's go to the western part of the state and let's talk about Sullivan County," WMUR's James Pindell said to both Brown and incumbent Democratic Senator Jeanne Shaheen. "Senator Brown, what do you see going right in the economy in Sullivan County and what's going wrong? And please be specific."
Brown, who's had to fend off multiple accusations of carpetbagging throughout his campaign, launched into a long litany of economic problems occurring in New Hampshire's rural North Country — high electricity prices, Obamacare, corporate tax rates — when he was interrupted by Pindell. "We're talking about Sullivan County and I think you were talking about the North Country?" Pindell inquired. "So what do you see as going well in Sullivan County or not?"
"I'm talking about any place past Concord, actually, and the challenges of our state," Brown replied.
"Sullivan County is west of Concord," Pindell kept pressing. "It's not north of Concord, Senator Brown. So what do you see as going well or what's not going well there?"
"With respect, I've answered the question. The challenge is the same in every county in our state," Brown countered, and it was an awkward moment for everyone involved. Watch that below:
And then it got more awkward, because Sullivan County (below in red) is, in fact, north and west of the state capitol of Concord, and just as rural as the rest of the North Country: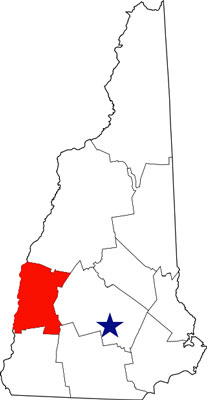 Realizing later that he did not catch Brown in a moment of carpetbagger's ignorance, Pindell publicly apologized on camera after the debate: "The truth is, it's both. On this point, Scott Brown was right. I was wrong, and I apologize to both campaigns," he said.
Watch that below, via WMUR:
[h/t Huffington Post]
[Image via screenshot]
— —
>> Follow Tina Nguyen (@Tina_Nguyen) on Twitter
Have a tip we should know? tips@mediaite.com