Debbie Wasserman Schultz Gets Emotional Describing Her Feelings After SCOTUS Decision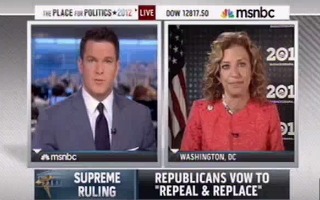 Democratic National Committee Chair Rep. Debbie Wasserman Schultz (D-FL) got a little emotional with MSNBC anchor Thomas Roberts on Friday talking about the recent Supreme Court ruling upholding the constitutionality of the Affordable Care Act.

RELATED: Debbie Wasserman Schultz To Piers Morgan On Wisconsin: 'We Were At Least In Part Successful'
Roberts asked Wasserman Schultz if she was concerned that the Republicans could now claim correctly that the law imposes a tax on lower and middle class Americans. She replied that she was not concerned because the law effectively grants all working Americans a $3,500 tax break.
She went on to say that the law addresses the problem of free riders in the health care system. "If you chose not to carry health insurance, this legislation says you're going to pay a small penalty so that we don't have to pay for you rolling the dice," said Wasserman Schultz. "The Republicans are engaging in deception if they say anything else."
Roberts concluded the interview by asking Wasserman Schultz for her personal thoughts on Thursday's Supreme Court decision as a cancer survivor herself.
Wasserman Schultz appeared to become emotional when she began her response. "My heart was full," she said. "When you are diagnosed with cancer, you feel like someone has thrown an anvil at you and you carry it around for your whole life waiting for the other shoe to drop."
"When health care reform was passed, that burden was lifted because you know you are no longer one job loss away from being uninsured or uninsurable," Wasserman Schultz concluded. She said, however, that there was a cloud hanging over that law's assurances in the form of the Supreme Court deliberations. When the court ruled as it did, Wasserman Schultz said she was relieved that this cloud has been lifted.
Watch the segment below via MSNBC:
> >Follow Noah Rothman (@Noah_C_Rothman) on Twitter
Have a tip we should know? tips@mediaite.com