Debbie Wasserman Schultz On Limbaugh Apology: Most Women Don't Think Being Called A Slut Is A Joke
Debbie Wasserman Schultz: Most Women Don't Think Being Called A Slut Is A Joke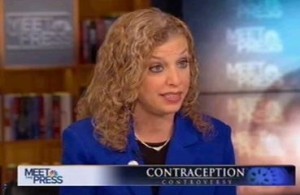 On Meet the Press today, DNC Chairwoman Debbie Wasseman-Schultz said that Rush Limbaugh's apology for calling Sandra Fluke a "slut" was too little, too late, and there was still some language in his apology that Schultz had a problem with. She expressed incredulity that Limbaugh would think that calling a woman that word in any context would be a joke, and said the candidates running for president need to come out strongly against the remarks.
RELATED: Even After Apology, Web Company Still Withdrawing Ads From Limbaugh Show
Schultz defended Fluke's testimony, where she said that she has to pay for her own health insurance and Georgetown does not cover birth control, before absolutely ripping into Limbaugh for his remarks.
"I know he apologized, but forgive me if I doubt his sincerity, given that he lost at least six advertisers… Rush Limbaugh, in that apology, said he was trying to be humorous. I don't know any woman in America, David, that thinks being called a slut is funny."
Schultz also called out Mitt Romney for not condemning Limbaugh's remarks in the strongest possible terms. Gregory brought up the Democratic Party's attempt to fundraise by launching a campaign against the Republicans' "war on women," and asked Schultz if she had any sympathy for the religious liberty argument. She pointed out that it was precisely that issue that President Obama dealt with in finding a compromise on the contraception issue.
Watch the video below, courtesy of NBC:
Have a tip we should know? tips@mediaite.com
Josh Feldman - Senior Editor