Debbie Wasserman Schultz On Obama's Press Conference: 'The World Doesn't Come To An End Just Because It's Super Tuesday'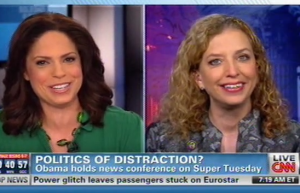 DNC Chair Debbie Wasserman Schultz was a guest on Starting Point Tuesday morning, and continued a frustrating theme on the show this week — that even host Soledad O'Brien noted — where guests evade her questions.
On Monday, Rep. Eric Cantor wiggled his way out of questions about Mitt Romney being a conservative. On Tuesday, O'Brien tried to get Wasserman Schultz to say that President Obama's speech on Super Tuesday was more than just a coincidence. Instead, the DNC Chair repeated talking points, causing O'Brien to proclaim, "I'm having a hard time getting people to answer my questions this week."
O'Brien led off the interview by asking Wasserman Schultz, "It's not coincidence, right?"
"No, it's not coincidence," Wasserman Schultz responded, before ticking off a list of newsworthy events surrounding the President. "This is a perfect day."
RELATED: Mark Halperin: If Mitt Romney Is Blown Out On Super Tuesday 'The Party Has To Get Him Out Of The Race'
"That's not what I meant and you know it," O'Brien said. "I meant, it's Super Tuesday, a day when everybody should really be talking about the GOP nominees, and this is a good opportunity to insert what the President is saying into the conversation. That's intentional, right?"
"The world doesn't come to an end just because it's Super Tuesday for the Republicans," Wasserman Schultz asserted, before rattling off more examples about jobs and the economy.
"So then, that's, 'Yes, we're going to make sure to steal some of the fire from all of the conversations about Super Tuesday and insert the President into that conversation.' That's how I read that. Am I right, before I move on?" O'Brien asked. "I'm having a hard time getting people to answer my questions this week!"
"I'm answering your questions straight up," Wasserman Schultz contended. "The world does not come to an end or a screeching halt because the Republicans have a primary." She then listed off more points about jobs, the economy, and the President's visit with Israeli Prime Minister Benjamin Netanyahu, which led to a segue on the topic of Iran. The two eventually wrapped up the interview talking about Rush Limbaugh and his comments on contraception.
Watch a clip of the interview below, courtesy of CNN:
Have a tip we should know? [email protected]
---