Debbie Wasserman Schultz On Romney's Speech: He Had 'Audacity To Not Lay Out Any Specifics'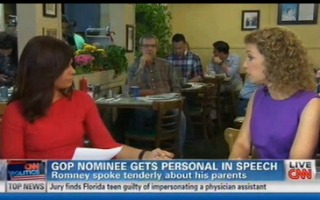 On Friday, Starting Point host Soledad O'Brien sat down with DNC chairwoman Debbie Wasserman Schultz to discuss Mitt Romney's RNC speech. O'Brien started things out by asking her guest what most worried her, as a Democrat, about the speech.
RELATED: Romney Outlines His Background, Why Obama Has Failed And Why He Can Do Better During RNC Speech
"Well, actually, what is deeply concerning to me is as an American is that Mitt Romney sort of had the audacity to not lay out any specifics at all," she replied, "but gave us some very nice platitudes about how he would create jobs, 12 million of them, reduce the deficit, he'd get a handle on the economy and apply his so-called economic wizardry to the nation's problems and did it in a way that didn't give us any specifics. And that's easy to do, but governing is hard."
She did admit that the little biographical in his speech were "nice," adding that he "had to" do that in order to try and connect with voters.
When O'Brien asked Wasserman Schultz about the "specifics" — or her perceived lack thereof — in Romney's speech, she replied that the candidate is purposefully vague to avoid getting "in trouble."
And while she did find aspects of his speech to be very warm, she felt he missed opportunities to reach out to women, especially on the topic of equal pay. Furthermore, she said, "simply saying the word 'jobs' a whole bunch of times during the Republican National Convention doesn't give Americans any understanding of how they would do that. And that's what's important. There are two paths and visions in front of voters."
Watch, via CNN:
Have a tip we should know? tips@mediaite.com