Debbie Wasserman Schultz To Piers Morgan On Wisconsin: 'We Were At Least In Part Successful'
Wasserman Schultz To Piers Morgan On WI: 'We Were At Least In Part Successful'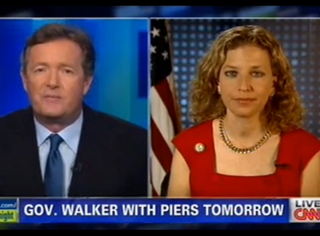 DNC Chair Rep. Debbie Wasserman Schultz isn't going to call Wisconsin Governor Scott Walker a "victory," but she will say that it was "at least in part successful." This she told Piers Morgan tonight, speaking out for the first time since last night's election, which Morgan found to be a strange reaction to it all, challenging her to explain how, if Walker was such an extremist, so many people in Wisconsin approved of him.

RELATED: Voter Cries Over WI Recall: Signaling Death Of Democracy, 'End Of USA As We Know It'
"The President deployed his entire grassroots machinery on the ground in Wisconsin," Wasserman Schultz argued, calling it "an unprecedented effort of grassroots in this recall," though "we came up short of the ultimate goal." She claimed that Democrats would still be able to "stop" Walker because of the gains in the State Senate, the bottom line of the night for her being that "Democrats are not going to just lie down and allow the middle class and workers to get run over."
"You keep calling him this extremist who everyone is terrified of, but he won, he won considerably," Morgan replied, adding that calling this "some kind of weird victory" seemed bizarre to him. "I'm certainly not going to call it a victory," Wasserman Schultz replied, not agreeing with Morgan that this meant voters were "a bunch of angry extremists," but that the explanation for their votes was that "voters look very differently at a recall than they do a normal election," and for some reason they were "uncomfortable" we recalling Walker even though "they didn't like his policies.
Morgan also disagreed with her that the news was somehow bad for Walker. It's made him a national superstar!" Morgan argued, "I suspect he is chuffed to bits." He also asked Wasserman Schultz about Bill Clinton's surprise defense of Mitt Romney, to which Wasserman Schultz replied that she was not, in fact, "choking on my soup," but did not agree with the President at all in this case.
The segment via CNN below:

—–
»
Follow Frances Martel on Twitter
Have a tip we should know? tips@mediaite.com