Debbie Wasserman Schultz Tussles With Fox & Friends Hosts In Heated Interview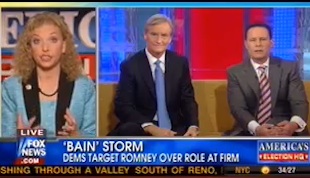 During a relatively heated segment, DNC chairwoman Debbie Wasserman Schultz appeared on Friday's Fox and Friends and engaged in a tête-à-tête with co-anchors Steve Doocy and Brian Kilmeade.
Doocy began the interview by asking if CNN was over-the-line for starting off the debate with a question about Newt Gingrich's personal life.
"You know, I think it's over the line to suggest that there is a partisan tilt to — to a question from a network…" Schultz hesitantly began.
"Never heard questions like that during Democrat debates!" Doocy interrupted.
"Like John Edwards and all the rumors that were swirling around him?" Kilmeade added.
"Oh, come on!" Schultz exclaimed, quickly moving on.
RELATED: Mitt Romney: 'I Feel Sorry For Debbie Wasserman Schultz
"Look, I think that the focus of that debate rightly ultimately was on the fact that Mitt Romney has hung his entire candidacy on his role in the private sector, which was as a corporate raider," Schultz continued. "…Which was as someone whose job it was to outsource other people's jobs to other countries, to deliberately bankrupt companies, to dismantle…"
"I believe that was Bain Capital mantra, we are here to raid and bankrupt companies!" Kilmeade sarcastically interjected. "No, and Bain is so bad –"
"That's pretty much what it does!" Schultz fired back. "In the name of making money for their investors which is okay but you know, Mitt Romney just needs to come clean and say that that's what he did. Instead, he is masking what he did and trying to — I mean, on any given day, he claims another number for the number of jobs he supposedly created!"
"I don't know if you've had a chance to watch all the debates, I know how busy you are." Kilmeade snarked, and replied to the DNC chief's claims by saying Romney has already explained his work at the company in great detail.
"Look, I know that this is the apples and oranges network," Schultz returned volley. "But at the end of the day…the OMB director isn't hanging his record on his time at Bain."
Watch the contentious interview below via Fox News:

Have a tip we should know? tips@mediaite.com