Debbie Wasserman-Schultz's Shocking, Insufficient, Rambling Response to MSNBC on Obamacare Enrollees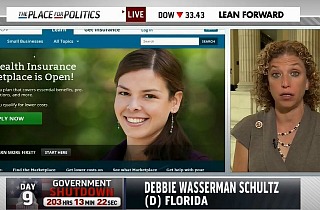 Maybe Rep. Debbie Wasserman Schultz (D-FL), chairwoman of the Democratic National Committee, was simply caught off guard when MSNBC anchor Thomas Roberts asked her about the government's stated inability to report on exactly how many people have signed up for the Affordable Care Act's health insurance exchanges. Or maybe, nine days into the opening of those exchanges, the White House and the Democratic Party still do not have a convincing explanation for why the number of enrollees is perilously low. Either way, Wasserman Schultz delivered a pitiful performance on Wednesday when she was asked why the government will not release details on the number of Obamacare enrollees.

Roberts began by playing a portion of Health and Human Services Secretary Kathleen Sebelius' interview with Comedy Central's Jon Stewart who mocked how difficult it is to enroll in the exchanges.
"So, how would you respond to the messaging and the criticism that there has been about the rollout of Obamacare," Roberts asked. "Even though the government is not running the actual insurance exchanges, it is running the rollout and should be able to provide every curious American about the data — and certainly journalists about the data — of how many people are actually signing up accessing Obamacare. So, where is that number?"
After stumbling for a bit, Wasserman Schultz responded by attacking the question. "We're eight days in and to be insisting on data being produced day by day for a six-month enrollment program, that — is a little bit unfair," she replied.
RELATED: Stewart Grills Sebelius on Obamacare: 'Level of Incompetence That's Larger Than What It Should Be'
She said that there is good news in the fact that the servers which support HealthCare.Gov were only designed to handle 50,000 visitors… per day. She added that there have been 250,000 visitors per day, which indicates heavy interest in the program.
"So, the analogy that I've used repeatedly is that the Republicans, because they don't like their kitchen redesign, are trying to burn their house down," Wasserman Schultz continued, pivoting to more comfortable territory.
"They don't even acknowledge or agree that everyone should have access in America to quality, affordable health care. That is the rub," she added. "And they don't accept that President Obama was reelected last November."
Roberts eventually, mercifully, cut her off for time.
If this is the best Obamacare's defenders can come up with, the program may be in more trouble than most presently know.
Watch the clip below via MSNBC:
[Photo via screen grab ]
— —
> >Follow Noah Rothman (@NoahCRothman) on Twitter
Have a tip we should know? tips@mediaite.com