'Debilitating Stupidity' Or 'Political Genius'? Christie Provokes Opposite GOP Reactions From Armey & Bolling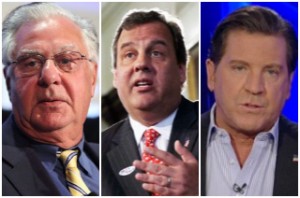 New Jersey Governor Chris Christie's decision to hold a special election in October to fill the vacant Senate seat of Frank Lautenberg, who passed away this week, has been quickly criticized by Democrats for being politically motivated. But that doesn't mean Republicans all agree with Christie's move. Two conservative commentators, former House leader Dick Armey on CNN and The Five host Eric Bolling on Fox offered wildly different assessments of the move.
Armey appeared via phone on The Lead with Jake Tapper, and immediately started to rail against Christie for not appointing a Republican to the seat during his announcement today. "I put it down as debilitating stupidity," Armey said. "because the first rule of politics is don't lose the friends you already have for the friends you're never going to get. And if he thinks the Democrats are going to love him for being the guy who plays fair rather than takes the political opportunity, he's crazy."
When Tapper asked Armey why Christie shouldn't put the decision to the voters, the former congressman balked at the idea that the governor is doing this "as a matter of principle." Instead, Armey said Christie is using "political calculations" that are "dimwitted" and "just diminished his chances of being re-elected governor."
Watch video below, via CNN:
Approximately an hour later over on Fox News, Eric Bolling opened a segment about Christie by calling his move "political genius" for a reason that Armey did not even mention. By holding the special election in mid-October, he will keep a popular Democrat, like, say, Cory Booker, off the top of the ticket in November when Christie is up for reelection as Governor and wants to show he can win by a wide margin.
Bolling also pointed out, much to co-host Bob Beckel's consternation that Christie will still need to appoint an interim Senator to serve between now and October. "He will be sure to appoint a Republican if he ever, ever wants to run for president," Bolling predicted. "If he appoints a Democrat, he can kiss his support from the right goodbye."
Andrea Tantaros agreed with Bolling's assessment, calling what Christie did "a very shrewd political move" given the "inevitability" of Booker.
But Dana Perino saw the "problem" for Christie's "brand" in the estimated cost to taxpayers for the special election. The governor indicated he "doesn't care" how much it will cost, but between a primary and special election just a few weeks before the general election, it could end up costing nearly $25 million. Perino said Christie's "flippant" remark will likely "rub people the wrong way."
Greg Gutfeld, who found the entire discussion excruciatingly boring, had the perfect suggestion for who Christie can appoint in the meantime: his new best friend Snooki.
Watch video below, via Fox News:
So, assuming you care more about New Jersey politics that Greg Gutfeld does, what do you think?
—
>> Follow Matt Wilstein (@TheMattWilstein) on Twitter
Have a tip we should know? tips@mediaite.com