DeBlasio Chef Upset Mayor's Wife Called Him 'Servant': She's 'Watching Too Much Downton Abbey'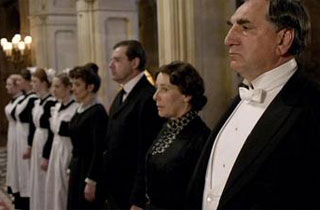 In an age where seeing a nice house automatically makes people say "Downton Abbey," a chef has discovered the pop culture-grown downsides of working in the New York City Mayor's mansion: he's now been called a "servant" by Lady de Blasio herself, Chirlane McCray, Countess of Park Slope.
"Nobody in this industry uses that word," former Gracie Mansion chef Mitchel London fumed to the New York Post. "If that's the way [she thinks] — and clearly it is, because she came up with that word — let me say I'm just glad I'm not at Gracie now."
"Maybe Ms. de Blasio is watching too much Downton Abbey," he speculated.
McCray, who would probably say she's a Lady Edith if quizzed, drew criticism on Tuesday when she insisted to a New York Times reporter that there would "there will not be a servant living [in the Gracie Mansion attic]." London had in fact lived in the attic while working as a chef for Mayor Ed Koch, and when told of the First Lady's comments (via calling card, no doubt), said he was "stunned."
"The word 'servant,' that is unbelievable," the Fairway Cafe chef told the Times. "I never viewed myself as a servant to Ed; it was a pleasure cooking for him. The word servant never came up."
"At Fairway, if I were to use that word about an employee, I'd be in HR the same day!" he complained to the Post later via a newfangled telephone recently installed in the downstairs pantry. "You cannot say that stuff. And there's not many words you can't say, but the S-word is one of them…It's a harsh word. Harsh. It shows a lack of something."
Mrs. de Blasio's staff declined to comment, because admitting defeat is very middle class.
— —
>> Follow Tina Nguyen (@Tina_Nguyen) on Twitter
Have a tip we should know? tips@mediaite.com