Declining Ratings Could Put Judge Andrew Napolitano's Fox News Future In Jeopardy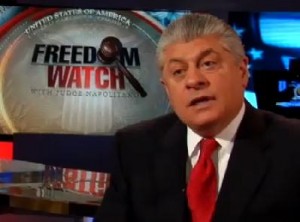 Back in May, Judge Andrew Napolitano seemed almost a shoo-in to take over Fox News Channel's 5PM time, slot vacated by Glenn Beck. Beck himself stated, on air, that he'd like to hand over the reins to his frequent guest and replacement host, and the Judge was named one of the regular panelists on the temporary replacement show The Five when it debuted this summer. But it might have seemed somewhat discouraging to Napolitano when news came that the temporary status of The Five was made permanent as the 5PM offering — and he wasn't part of the program.
But, it seems as though Fox News may have had reason to pass over Judge Napolitano as a permanent fixture on their surprisingly high-rated show: Mediaite recently got a hold of the self proclaimed "night watchman's" Nielsen ratings, and the numbers don't look good. The Judge has consistently been one of the lowest rated programs on Fox Business Network's prime time lineup –- and trending lower.
October numbers to date prove to be Napolitano's lowest rated month for total viewers (P2+) since May '11, and the absolute lowest rated month in the demo all year, averaging a measly 50,000 total viewers, with 8,000 in the demo. He's also down 10% in total viewers, and a whopping 43% in the demo just since last month. To make matters worse, he loses more than half of the audience that the network's top-rated Lou Dobbs Tonight brings in on a regular basis.
This can't be going over well with the top brass over at Fox – and in fact it's not. A recent Reuters exclusive report by Peter Lauria uncovered an internal memo from network head Kevin Magee reminding the staff to stop trying to be Fox News and to focus on actually being, shocker, a business network. Mediaite can't help but wonder if that was, in some way, directed at Napolitano, whose show FreedomWatch is the only prime time program that rarely, if ever, focuses on business or the economy. The memo stated "If we give the audience a choice between FNC and the almost-FNC, they will choose FNC every time." With no other show is that more apparent than with FreedomWatch.
Napolitano has enjoyed a growing media presence; he has a very active presence on Twitter and a new book out. But his nightly show on FBN and his numerous guest appearances on Fox News are clearly a very important promotional platform.
Could it be that the Glenn Beck protégé might be following in his mentors footsteps…off of the Fox News airwaves?
Have a tip we should know? tips@mediaite.com