Deep Thoughts from Duck Dynasty Star: Vagina Is 'More Desirable than a Man's Anus'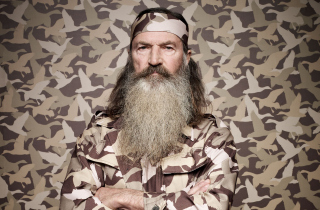 (UPDATE BELOW) Meet Duck Dynasty star Phil Robertson. He's the founder of the multi-million dollar Duck Commander hunting empire, a devout Christian, and he also wants you to know that homosexual sex is illogical because, yuck, a man's anus is clearly not as attractive as a woman's nether-regions.
In an interview with GQ, Robertson described how it is his belief that America is falling victim to sinful behavior, including the acceptance and practice of homosexuality.

He urged the country to shun sinful behavior and turn back to its "Christian" roots:
"Start with homosexual behavior and just morph out from there. Bestiality, sleeping around with this woman and that woman and that woman and those men. Don't be deceived. Neither the adulterers, the idolaters, the male prostitutes, the homosexual offenders, the greedy, the drunkards, the slanderers, the swindlers—they won't inherit the kingdom of God. Don't deceive yourself. It's not right."
On homosexuality, Robertson elaborated: "It seems like, to me, a vagina – as a man – would be more desirable than a man's anus. That's just me."
That is your preference, indeed, seeing as you are a heterosexual male.
He continued: "I'm just thinking: There's more there! She's got more to offer. I mean, come on, dudes! You know what I'm saying? But hey, sin: It's not logical, my man. It's just not logical."
Oh, but it is "logical." Men who are homosexual (i.e., attracted to men) generally do not find themselves sexually aroused by a woman's vagina because that body part belongs to a woman, not a man.
Also notice how he lumped "bestiality" in there with homosexuality and promiscuity. Not even going to dissect that one because it's well-worn territory.
UPDATE Robertson has been suspended from the show by A&E following those remarks.
— —
>> Follow Andrew Kirell (@AndrewKirell) on Twitter
Have a tip we should know? tips@mediaite.com