'Defected' Viewers, Ann Curry Ordeal Created Viewership Woes For Today, AP Reports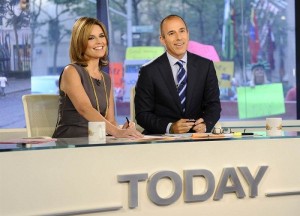 The Associated Press published a story today chronicling NBC's viewership woes with its morning show, Today. Citing various reasons for viewer unhappiness, from Ann Curry to the show's format, the report does also cite potential for Today to regain its footing.
The report particularly points to "defections" — including viewers who turned to competing shows either because they didn't like Curry…or didn't like the ordeal surrounding her exit.
One viewer, Susan Wurtzel, 57, attributed her switch to CBS largely to Curry.
"Ann's interview style was like chalk on a board to me," she said. "She leaned toward her interviewee and whispered her questions like someone had died. The more serious the interview, the quieter she got. When she replaced Meredith (Vieira), I tried to adjust and accept, but she just didn't work for me. Katie (Couric) and Meredith were relatable, empathetic and funny. Ann just seemed out of place."
But Curry's exit, too, created a problem. Even people "who didn't particularly like Curry loathed the way she was dispatched. Except for two weeks during the Olympics, "Today" hasn't sniffed first place in the ratings since."
More, via the AP:
An informal survey of three dozen viewers who have left or are considering leaving "Today" turned up various explanations, including a feeling that the show had leaned too far in the direction of lighter, pop culture fare. The Curry dismissal was clearly a tipping point, however.

William Runge, a manager at an educational cable network who lives in suburban Winston-Salem, N.C., likened the treatment of Curry to "a public flogging."

"The PR machine at NBC spent an enormous amount of time and effort convincing me that the 'Today' show team was actually part of my family, 'America's First Family," said Runge, 46, citing the show's advertising slogan. "Guess what? They were right. These did feel like family members. So this is how you are going to treat a member of your family?
Even worse, the report says, "a significant number of viewers appear to blame co-host Matt Lauer for the move" — which Executive Producer Jim Bell has since denied.
And then, there are yet other viewers who have grown tired of the show's format and content. The "lack of actual news reporting," as one viewer deemed it.
The slew of complaints do, however, provide "seeds of potential recovery."
"Good Morning America," particularly in its second hour, has an even greater pop culture emphasis. Bell said his show will try to draw a greater contrast with its ABC rival in coming months. A recent ad with Lauer touts the "informative" nature of the show. Curry, who has kept her job with NBC as a hard news reporter, appeared on "Today" during the past month interviewing Libyan President Mohammed Magarief and reporting from Syria.
NBC needs its loyal, devoted fans to "turn things around," the report notes. But it'll take time.
Read the full Associated Press story over at NPR.
Have a tip we should know? tips@mediaite.com