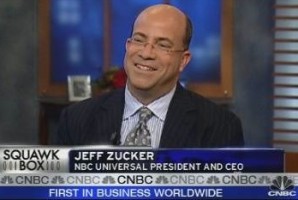 Throughout the recent sturm and drang surrounding the NBC late night drama, the one consistent takeaway is that this is all the fault of NBC Chief Jeff Zucker. And while that may or may not be true, the idea of moving Jay Leno to the 10pm time slot wasn't always seen as the disastrous move that is now. In fact, many television critics hailed Zucker for "the coup" of keeping Leno when this move was announced. Let's take a look at what critics said at the time, and compare it to their thoughts now. Fun! Right?
This piece by the New York Times' Bill Carter suggested an NBC windfall:
Retaining Mr. Leno will undoubtedly be seen as a coup for Mr. Zucker, who has faced some serious questions about the wisdom of guaranteeing "The Tonight Show" to Mr. O'Brien and possibly losing Mr. Leno to another network.
Via a recent interview with Entertainment Tonight, here's what Carter is saying now:
The question, really, is Conan. What they're doing to Conan, you could really say is kind of a stab in the back because he was promised 'The Tonight Show' and he didn't really get it clean because they moved Jay in front of him anyway.
The Huffington Post AP's David Bauder noted (rightly) the low cost of the show, but didn't foresee the high cost in credibility:
Leno's deal also has the potential to be a big cost savings for NBC. A talk show is considerably cheaper to produce than the dramas that usually air at 10 p.m. Eastern.
Entertainment Weekly praised the network for holding on to Leno:
Most important for NBC, though, it keeps Leno, a proven ratings earner, in its stable at a time when it needs him…
Boston.com's TV blog was more effusive in its praise of the decision (and only the decision; writer Matthew Gilbert said he's "not a big fan" of Leno):
This is the kind of bold, experimental move that network TV needs right now. Is there a rule somewhere that says a nightly talk show won't work at 10 p.m.?
Now, Gilbert says O'Brien should ditch NBC (and any other network that might want to bring him in):
Network TV is no longer the only game in town. I'd love to see what he'd do on Comedy Central, in the company of talents like Jon Stewart and Stephen Colbert and the "South Park" guys.
Perhaps the most glowing initial review of the Leno-to-primetime move came from the Kansas City Star's Aaron Barnhart, whose opinion was made clear by the headline on his first post on the issue:
Jay Leno in prime time: This is a win-win-win situation
So what does Barnhart think now?
After insisting for all of 2009 that its "revolutionary" plan to put "The Jay Leno Show" in prime time was a two-year experiment and that it was reinventing the 9 o'clock hour of network TV, top executives for NBC admitted today that the experiment was over.
Barnhart's latter piece has a much more formal, "traditional" tone than his glowing blog post, but putting "revolutionary" in quotes there suggests a touch of snark.

Additional reporting for this post was brilliantly provided by Glenn Davis.

Have a tip we should know? tips@mediaite.com