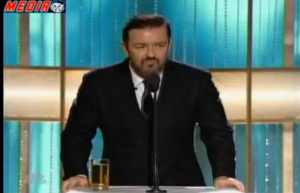 If television programmers and award show producers are smart, they would consider Sunday night's broadcast of the Golden Globe Awards as an historic night. Much has already been made of the controversial comedic styling of host Ricky Gervais, and his brave choice of forgoing a predictably convivial route for a more caustic "road less traveled" in hosting the show. And God bless him for it –not only did he single-handedly make an otherwise boring and predictable program seem surprising (if not dangerous?), but the viewership rewarded his bravado, scoring record ratings for the fledgling show.
Yesterday the media world seemed divided: some suggested that the host's impossibly bold (and at times rude) material meant that his career was over. At The Washington Post, Lisa De Moraes wrote that the Globes "will go down in history for having brought Hollywood together in its hatred of host Ricky Gervais," before suggesting that Gervais was so offensive to Hollywood's elite, that last night's show was simply the event when "Gervais's career died."
On the other hand is Tim Goodman, who reviewed Gervais performance for The Hollywood Reporter, noted that though this was likely Gervais's last stint as Globes host, he did exactly what he said he'd do ("I warned them," Gervais said) and exactly what the "sycophantic back-slapping" show needed: a fearless ego-bubble burster. Which leads us to the record viewership.
Nielson reported yesterday that the Gervais helmed Golden Globes ceremony was viewed by nearly 17 million individuals, which was not only better than all competition in the same time period, but even better than last year's audience. Further, it was also NBC's most-watched prime-time entertainment telecast in the all important 18-to-49 demo since…wait for it…last year's Golden Globes (also hosted by Mr. Gervais.)
But something tells me that, despite the great ratings and enormous buzz that came from his jokes, Gervais won't be back at the Golden Globes dais in future years. Which is particularly odd for an industry that consistently values commercial success over quality of content (how else can one explain the career of Michael Bay?) Sadly, it appears that Gervais days of hosting awards shows may be behind him as there is an apparent consensus that his act was not only uncivil, but it may have hurt the feelings of the stars in the room. (The horror!)
But an uncivil host was exactly what made the show so entertaining. First of all, there may be no other sort of program as self-congratulatory as an awards show, a genre of programming of which the Golden Globes has long stood out as the odd in-law from a family overseas. Gervais frank and candid comedy set seemed to have broken some sort of weird Hollywood honor code that states no one should ever actually speak truth to box office power.
Consider that many of the celebrities targeted by his monologue earn millions of dollars for appearing in movies (and get literally hundreds of valuable freebies only because of their celebrity) one might think that they'd have developed a little tougher skin. Or at least appreciate that in the paradigm of costs and benefits of their absurd good fortune, a little teasing by a Mr. Gervais is the least that they could endure. But no, how dare he deign to denigrate our national treasure, America's celebrities!
I suppose that the Hollywood Foreign Press Association could continue their role as an awards show iconoclast and actually book Gervais to host next years show, but given the feedback that he's received by the industry aleady, it would seem unlikely that Gervais would even accept the gig if asked.
Until then, we will always have this years Golden Globes' controversial monologue for future hosts to study, and hopefully replicate. At least we can hope.
Have a tip we should know? tips@mediaite.com