Defense Sec. Panetta On CBS: Navy SEAL Should Be Disciplined For Publishing Book On Bin Laden Raid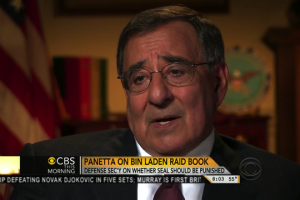 Defense Secretary Leon Panetta appeared on CBS This Morning, and finally opened up about the controversial book written by a Navy SEAL detailing the raid that took out Osama bin Laden. Panetta suggested that the SEAL could face heavy punishment because if the government did not take such action, others would interpret it as a sign that military officials could go public about any secret missions without facing the proper consequences.
RELATED: Navy SEAL Team 6 Member To 60 Minutes: Book Written For Respect, Not Politics
Norah O'Donnell asked Panetta, who was the director of the CIA when the raid was carried out, why the government is unhappy with the book by the Navy SEAL coming out when the government itself provided information about the bin Laden raid to several news publications and the makers of a Hollywood film about the raid. Panetta said that there is a clear difference between government officials being authorized to provide information to certain individuals and a lone individual releasing details on his own terms.
When O'Donnell asked if the SEAL should be prosecuted for writing the book, Panetta said some disciplinary action should be taken to discourage future activity by military members.
"I think we have to take steps to make clear to him and the American people that we're not going to accept this kind of behavior, because if we don't, then everybody else who pledges to ensure that that doesn't happen is going to get the wrong signal, that somehow they can do it without any penalty to be played."
Watch the video below, courtesy of CBS:
—–
Follow Josh Feldman on Twitter: @feldmaniac
Have a tip we should know? [email protected]
Josh Feldman - Senior Editor