Delta Airlines Apologizes For Charging Returning Soldiers $2,800 In Baggage Fees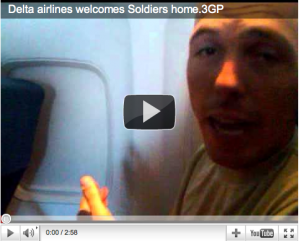 Delta Airlines has offered an apology for having charged soldiers heading home from Afghanistan over $2,800 in luggage fees. In a widely-circulated YouTube video that has since "been removed by the user," Staff Sergeants Robert O'Hair and Fred Hilliker aired their grievances with the airline during their flight from Baltimore to Atlanta on Tuesday. In the video, O'Hair explained that his fourth bag was a weapons case holding a 203 grenade launcher, an M4 rifle and a handgun (not exactly carry-on luggage, basically).
Delta's manager of social media, a self-described "Army wife," issued a statement on the airlines' official blog, sharing that it had decided to change its policy effective immediately and expressing regret over the way the soldiers' travel arrangements were handled:
After careful consideration, effective immediately, U.S. military personnel traveling on orders in First Class and BusinessElite can check up to five bags at no charge and 4 bags in economy class. This change also adds dependents traveling with active military on orders. Each bag may weigh up to 70 lbs. (32 kg) and measure up to 80 linear inches (203 cm), which offers added flexibility over the standard 50 lbs. and 62 linear inches (157 cm) allotment. Because of weight, balance and space constraints, Delta Connection carriers will accept up to four bags at no charge. You can read the updates to the travel policy on delta.com.

We hope these changes to our policies reflect the true respect we hold for our service men and women and again demonstrate our appreciation as both a company and as individuals who benefit from the freedom our troops defend. We also hope this echoes our commitment to listening, learning, and our continued dedication to constant improvement.

As an Army wife and 12 year Delta employee I also want to take this opportunity to shed some light on the additional ways we work to support U.S. Military personnel and their families throughout the travel process as well as in the community. We are a longstanding supporter military support organizations such as the Fisher House Foundation and United Service Organization.
According to a report from Fox News, the airline also plans to monetarily reimburse the troops for their fees. Take a look:
Have a tip we should know? tips@mediaite.com